The Sauerkraut Hessen style is a traditional dish from the region Hessen like the "Green Sauce" or the "Hand Cheese".
It comes originally with the Frankfurter ribs (cured pork chops, cooked in a salt brine), and mashed potatoes or serve it with Semmelknödel, or in a roll with mustard and horse radish. And of course a glass of apple cider would make this meal perfect!
Apfelwein  or apple cider is made from eating or cooking apples, such as Granny Smith or Bramley. It has an alcohol content of 4.8 -7.0% and is of a tart, sour taste – very refreshing and not sweet at all.
Apple Cider or in Hessen "Apple Woi" in the USA
You can find one brand of German apple wine in the USA: Hard apple cider from Kelterei Possmann in Frankfurt, Germany. Possmann Pure Cider has a perfect balance of rich apple flavor while not too sweet.
The flavor comes from apples which are harvested exclusively from our more than 800 farmers in the region of Hessen, the home of the "Apple Woi" – German Apple Wine.
If you don't want to use or cannot get apple cider  (it contains alcohol and is not that easy to find) use apple juice mixed with taste neutral sparkling water for this recipe. Important is that the normal apple juice sweetness should be watered down. You don't want to add sweet apple juice to the dish.
LINKS & INFO
Retailers for Possman Apple Cider
More information on Apple Cider from Germany
Learn How to Make your own Apple Cider 
Ingredients Sauerkraut Hessen Style
4 cured Frankfurter ribs – Recipe How to make Frankfurter Ribs –
750 g Sauerkraut
2 apples
1 onion
3 bay leaves
8 juniper berries
pepper, salt to taste
1 tbsp clarified butter
250 ml vegetable broth – How to make Vegetable Broth –
200 g apple sauce
250 ml apple cider (original recipe is using Frankfurter Äppelwoi)
corn starch (optional)
sugar if necessary
---
Of course this Box contains Sauerkraut & Mustard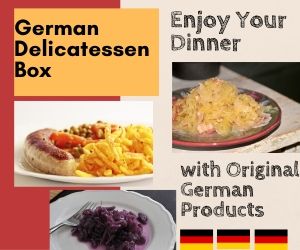 ---
Cooking Instructions Sauerkraut Hessen Style
– Rinse the Sauerkraut, press so all liquid will be removed.
– Peel onions and apples; chop onions fine, remove core from apples and cut in small pieces.
– Melt clarified butter in a pan, add onions, apples, bay leaves and juniper berries. Saute briefly.
– Mix Apple sauce with apple cider.
– Add Sauerkraut, fill up with broth and the apple cider mix. Mix well.
– Bring to a boil, place the ribs on top, cover with the Sauerkraut
– Cover with a lid and let simmer on low heat for 30 min.
– Spice to taste and add sugar if necessary.
– If you like you can thicken the Sauerkraut by adding some cornstarch that is dissolved in some cold water.
---