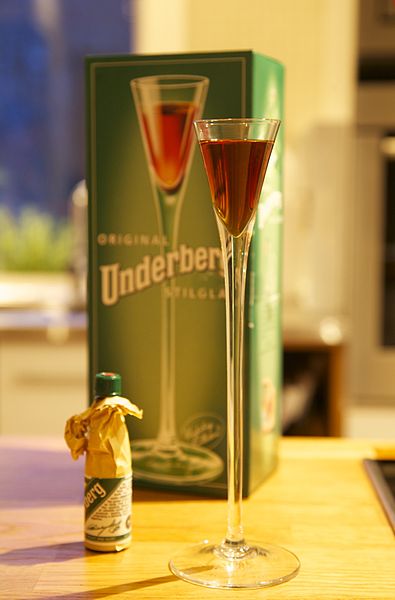 The tradition of the herbal German digestive "Underberg" goes way back to a time that we nowadays would call the good old times.
The Underberg story began in the year 1846 when Hubert Underberg married Katharina Albrecht, and they founded the company Underberg-Albrecht at the Town Hall of the German city "Rheinberg" (near Bonn). Years before Mr. Underberg started to develop a drink that was more defined that the regular herbal elixirs from Netherlands and Belgium, he had selected several herbs that had some re-known healing powers. So these herbs had been added to the liqueur.
The selected herbs created a new elixir, and the new brand was born: Underberg, the Herbal Digéstif.
As of today the brand Underberg is in the 5th generation of the family Underberg and it will never change.
Hubert Underberg's Success
With its uniquely soothing properties and consistent quality the product quickly became very successful. The brand was soon famous throughout the nation, and Hubert Underberg was awarded resounding titles such as Purveyor to the Court. At the World Exhibitions in London, Paris and Philadelphia, the company's founder won medals for his unique product.
The Tall Glass
At the Paris Exhibition of 1867, Hubert Underberg had the the exclusive 2 cl tall glass made. More than ever, the hand blown glass is now characteristic of Underberg. It is 24cm or 9,5 inches high, and is much taller than any other glasses you would use on a festive table. During WWII production had been stopped temporarily as it was not possible to procure the necessary herbs.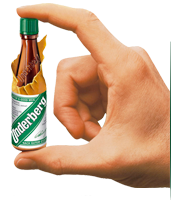 Rheinberger Herbal Digestive
You probably have seen the little 20ml single-portion bottles; maybe in Germany where they sell them in every restaurant or in America even on Amazon. The special little Underberg bottle became famous and from now on, nobody else could sell fake herbal drinks in Underberg bottles. Emil Underberg, a grandson of Hubert, created the Rheinberger Herbal Digestive and until nowadays it is the way how you would enjoy the liquor: out of 20ml bottles.
Underberg is the liqueur you would drink after a good meal and one 20ml bottle is just right. Now you also can use Underberg in some special recipes like the sorbets that are below. In Germany there is an award program ongoing and the glasses are part of it, you cannot buy them in a store; unfortunately the award program has not started yet in the USA. So if you want to make these delicious sorbets, use some tall champagne flutes or glasses.
Click here to see this video; it shows how Underberg is served and why!

Underberg Recipes
#1 Ingredients for 10 Underberg tall glass portions:
250 ml fresh orange juice
1/2 fresh papaya
2 tablespoons sugar
1 1/2 Underberg
#2 Ingredients for 10 Underberg tall glass portions:
100 g blueberries
150 g strawberries
1 apple (grated)
2 tablespoons sugar
1 tablespoon cranberries
3 Underberg
#3 Ingredients for 10 Underberg tall glass portions
3 pureed Golden Delicious apples
2 teaspoons of cinnamon
juice of one lemon
2 tablespoons of sugar
2 Underberg
#4 Ingredients for 10 Underberg tall glass portions:
5 fresh lychees or 1/2 tin lychees without juice
100 g fresh pineapple
100 ml rosehip juice
100 ml ginger syrup
a few peppermint leaves
2 tablespoons sugar
2 Underberg
#5 Ingredients for 10 Underberg tall glass portions:
5 fresh lychees or 1/2 tin lychees without juice
1/2 fresh papaya juice of two oranges
1 piece root ginger
100 ml elderberry juice
2 tablespoons sugar
2 Underberg
Instructions for all Underberg Sorbets
Purée the fruit in a blender or mixer.
Then add remaining ingredients but not the Underberg.
Mix it very well, then add the Underberg while the mixer is running.
Now fill the mixture in the machine (please note manufacturer's instructions), and your Underberg sorbet is ready to enjoy.
Find Underberg on Amazon – Click here