Baked apples filled with marzipan are super delicious as a dessert after a festive dinner such as the Christmas dinner. In a previous article we featured the German Roasted Goose which is the absolute traditional German Christmas meal. You can serve the baked apples with whipped cream, vanilla sauce or vanilla ice cream. In German we call the dessert "Bratapfel".  The smell alone when the apples are baking in the oven, is captivating! You can buy the marzipan online and it should not contain any sugar. Happy Baking!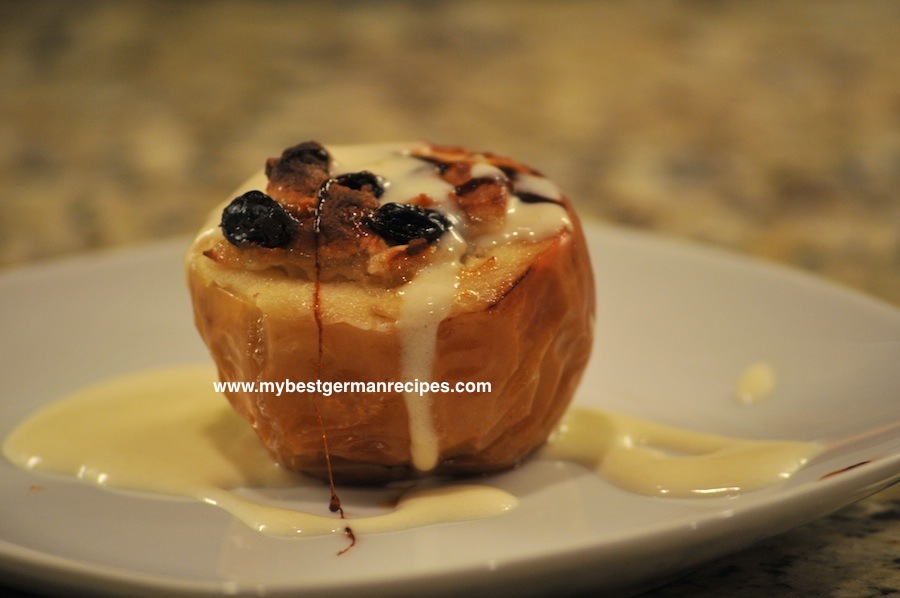 Ingredients Baked Apples filled with Marzipan
1 tbsp raisins
100 g baking marzipan
3 tbsp chopped almonds
4 medium size apples – slightly sour
4 tbsp lemon juice
some apple juice
1 package vanilla sauce powder – How to Make Vanilla Sauce –
some raisins and chopped almonds
Cooking instructions
– Cut marzipan in small pieces. Knead it together with raisins and chopped almonds.
– Make 4 pieces out of the dough and form 1cm thick rolls.
– Cut off the upper part of the apples and remove the core (there should be a whole inside the apple).
– Place in each apple one marzipan roll.
– Drip with apple and lemon juice. Place apples in a fire proof form.
– Bake in pre-heated oven on 375 F for 25 minutes – depending how big the apple is it might take longer or cooking time is even shorter.
– Make the vanilla sauce per instructions on the package.
–  When apples are done, pour the sauce over them and sprinkle with raisins and almonds.
---