The vegetarian Kohlrabi Stew with cheese is a great German vegetarian dish. Kohlrabi is a popular vegetable in Germany especially during the winter months. I found it on farmers markets and local produce stores. Kohlrabi can be enjoyed raw as well but it is a great ingredient for vegetable soups and stews. For this recipe the kohlrabi will be baked with cheese at the end, you could also call the recipe "Kohlrabi gratin". Happy Cooking!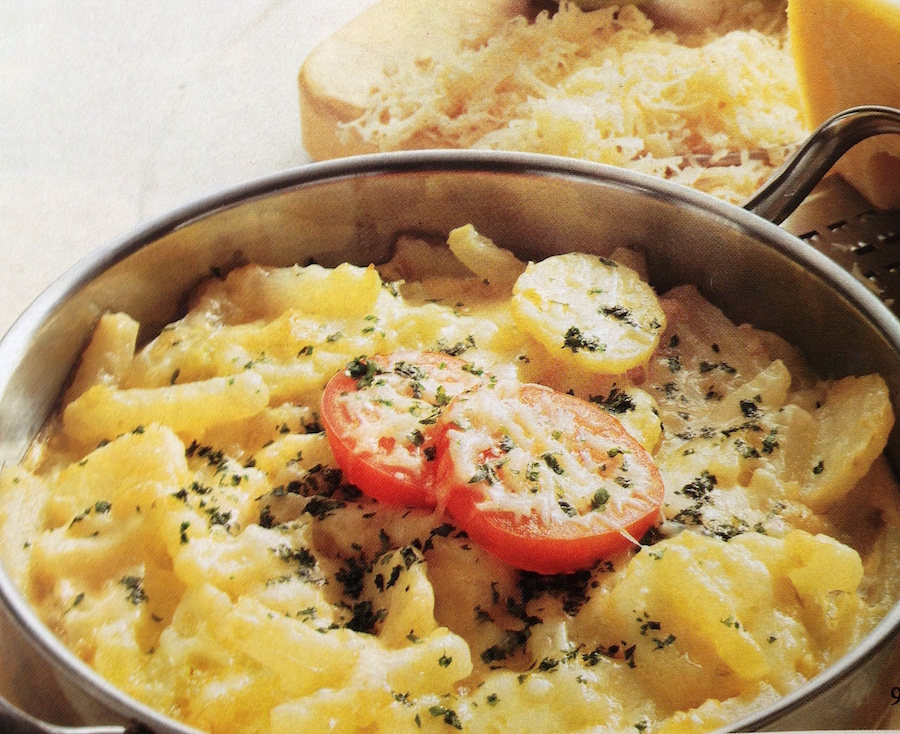 Ingredients Vegetarian Kohlrabi Stew with Cheese
(serves 1-2)
1-2 kohlrabi
1 small onion
2 potatoes
1 tbsp clarified butter
2-3 tbsp  broth, instant
1 tsp flour
salt, white pepper, sugar to taste
1-2 tomatoes
1 egg
2 tbsp heavy cream
grated cheese
chopped parsley
Cooking Instructions  Vegetarian Kohlrabi Stew with Cheese
– wash, peel kohlrabi and cut in small stripes.
– peel onion and chop fine.
– make broth per instructions.
– saute onions in clarified butter until transparent, add kohlrabi, saute for 1 minute then add the broth.
– saute for 15 min.
– mix flour with some water, add to vegetable.
– peel potatoes, cut in slices, add to vegetable.
– spice to taste.
– pre-heat oven to 390 F (200C).
– place the vegetable in a fire proof form, tomato slices on top.
– mix heavy cream with egg and cheese, pour over veggies.
– gratin in oven for some minutes.
– sprinkle with chopped parsley.