The Holiday Dried Fruit Compote Dessert is a traditional German dish that is served during the winter season especially around Christmas. The compote is spiced with nice seasonal spices such as cinnamon, anise and cloves. Enjoy it with a spoonful of lightly sweetened whipped cream on top. Happy Cooking!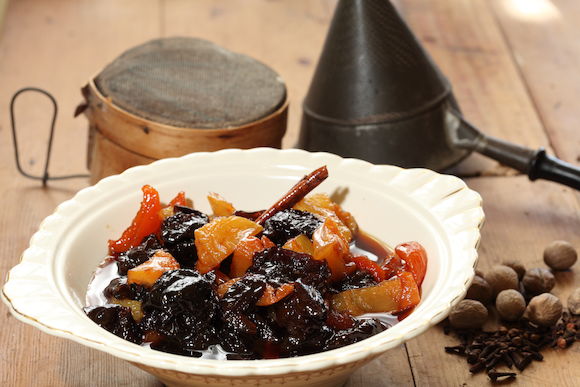 Ingredients
700 g dry fruit (plums, pears, apples, apricots)
3-4 tbsp raisins
1 vanilla bean
1 cinnamon stick
2 cloves, sugar to taste
Cooking Instructions
– soak dry fruit and raisins over night in 2 liter cold water.
– the next day add cinnamon, cloves and vanilla bean, bring to  a boil and let it boil for 20-25 min.
– add sugar to taste.
– place the compote into jars and keep it for several hours in the fridge.
Serve chilled with some whipped cream (not too sweet)
It is also possible to make this compote with canned fruit but often there is sugar added. The best is to harvest the Italian plums and freeze or can them whole with the pit so they can be used in winter.