If you visit the South of Germany (Baden-Würtemberg) make sure to order a warm potato salad in one of the Inns (Gasthof) that you find on the country side in every town. This salad is special and tastes the best with German Speck (smoked bacon). You would get a slice of 1 inch thick and cut it in very small cubes. Enjoy this potato salad warm or cold – it's perfect for a BBQ and a side dish for Bratwurst. Try it out. Happy Cooking!
Ingredients Warm Potato Salad
1 kg potatoes (yellow, Gold)
1 medium size onion
100 g Speck (German Bacon)
salt, nutmeg, pepper to taste
1-2 tbsp mustard, pref German mustard 
3-4 tbsp vinegar (preferably German)
3-4 tbsp sunflower oil
1 tbsp chopped parsley
use alternatively other fresh herbs such as chives, chervil, or cress
---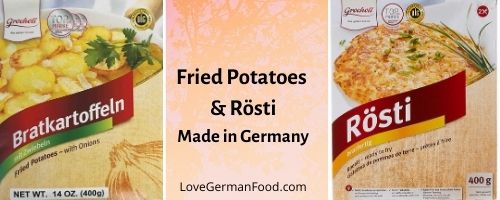 Cooking Instruction Warm Potato Salad
– Boil potatoes with skin until they are done but don't overcook. Potatoes need to be a bit firm because you want to slice them fine.
– Let cool of for 5 min.
– Peel potatoes while they are still warm.
(TIP: use a fork and stick the potato on it, then with a sharp knife peel the potato so your fingers won't get burned).
– Cut potatoes in very thin slices.
– Peel onions, chop finely.
– Cut bacon in very small cubes.
– In a skillet add bacon (without any grease), fry until the fat has melted off. Add onions, saute for 2 minutes.
– Add bacon-onion mix to warm potatoes, mix well.
– Combine vinegar, oil, mustard, salt and pepper to taste and chopped herbs, add to salad. Mix well.
– Serve warm or let it cool off completely in the fridge. Enjoy with Bratwurst, Frankfurter sausages, Frikadelle (German hamburger) or Wiener Schnitzel.
---