Bavarian Dampfnudeln or Yeast dumplings is a traditional Bavarian dish. They are made out of a yeast dough and can contain eggs or not. You would make balls in the size of a fist and then cook them in a closed pot that contains some milk and butter (Bavarian version) or saltwater and grease (Pfalz version).
When cooked the right way the Dampfnudeln have a golden brown crust on the bottom. To get this crust use a pot that has a thick bottom or is made out of cast iron. They are cooked by the steam so you need to have a good lid on top of the pot. Recipe from our FB follower Ursula U. –  Happy Cooking!
Ingredients Bavarian Dampfnudeln
1 lb flour
1 egg
2 oz butter
1 oz yeast, dry or fresh
3 tbsp sugar
1/2 tsp salt
app. 1 cup milk
Additional milk and butter for cooking.
---
There's a Baking Mix for almost any German cake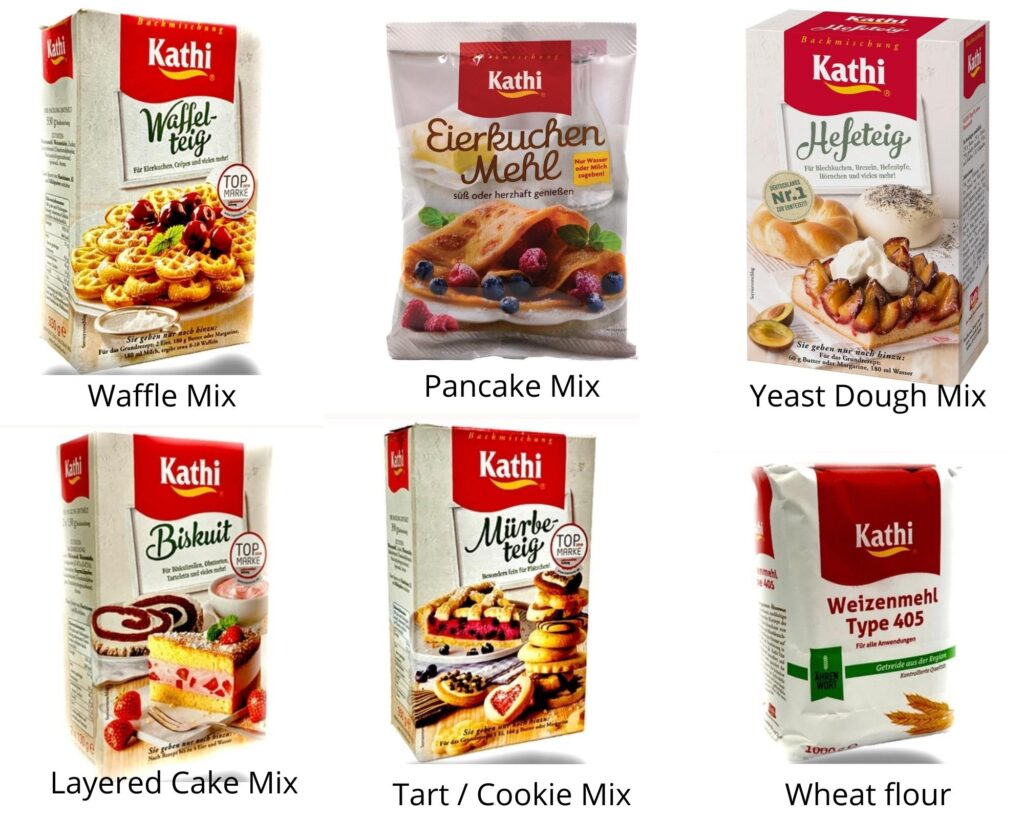 ---
Cooking Instructions Bavarian Dampfnudeln
– Crumble yeast in 1/2 cup lukewarm milk and stir until dissolved.
– Put flour into a warm bowl, make a well in the middle and pour in milk-yeast liquid, stir in some of the flour, the egg, mix well.
– Place bowl covered with a kitchen cloth near a warm oven so dough can rise.
– Let rise 5-10 min, then form 12-15 balls of mandarin size.
– Place them on a lightly floured baking sheet or cutting board. Keep a good distance in between the balls.
– Cover them with a clean kitchen towel, let rise again until size of the balls has doubled.
– It is extremely important to make the Dampfnudeln in a proper pot, preferably in a Dutch oven. The bottom of the pot should be thick and the lid should fit tight, size about 6-7 qt.
– Melt butter in a pan, add milk, sugar and salt, so the bottom is at least 1 inch covered.
Note: The dough balls should not be covered with milk!
– Put dumplings carefully into lukewarm milk (about 5 at one time), they will grow in size again. Let them rise more (about 10-20 min), then place lid on top and bring to a soft boil on medium heat.
– Then reduce heat to low and cook them for about 30 min until all milk is absorbed and the crust of the dumplings begins to make a "cracking" sound. If so reduce heat to lowest temperature,  for electric stoves you would turn the cooking plate off and leave on warm burner.
Important: Never open the lid during the cooking time!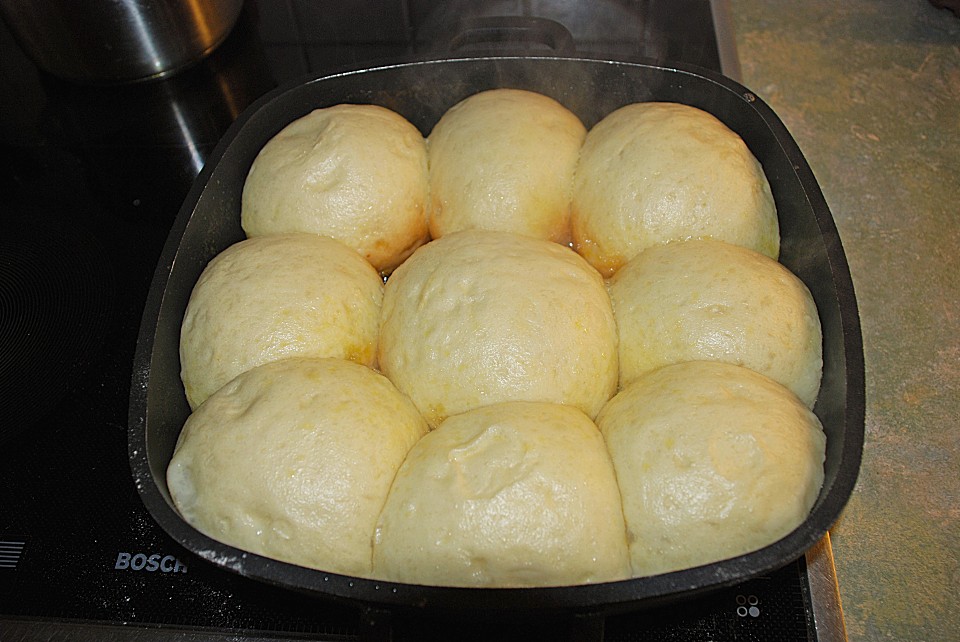 – IDEAL RESULT: The Dampfnudeln should be light and fluffy with a nice crust on the bottom, and all the liquid should be absorbed.
– Let them remain in the closed pan for several more minutes. Carefully remove the lid so that the condensed water does not drip on them.
– Remove from the pan by using a wooden spoon and place the dumplings with the crust on top on a warm plate.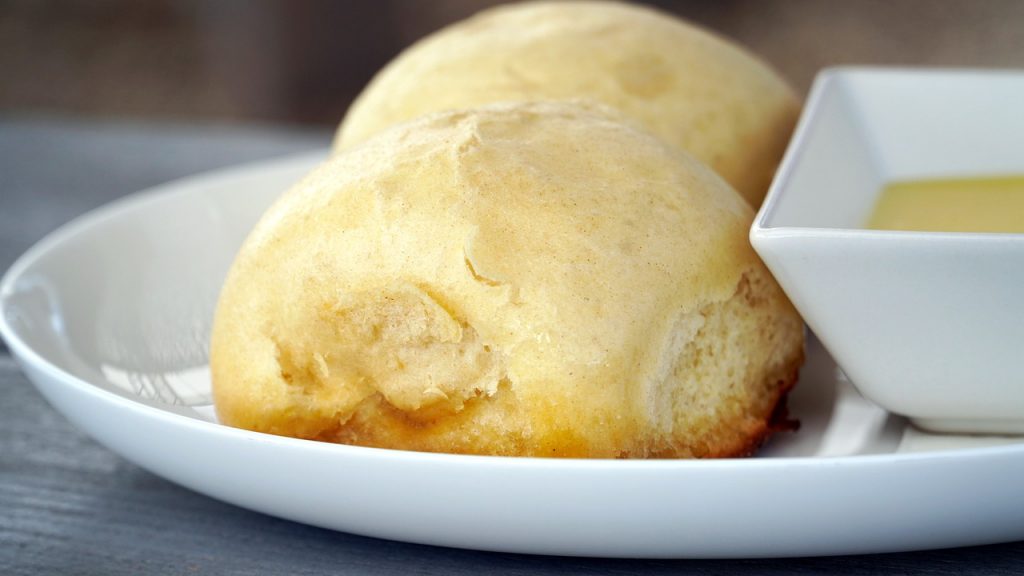 Serve with a warm vanilla or wine sauce (see recipe below). You can make the vanilla sauce  by using a regular small package vanilla pudding stirred into 3 cups of milk. Let simmer until thickened. Or use the ready made Vanilla Sauce from Dr Oetker.
---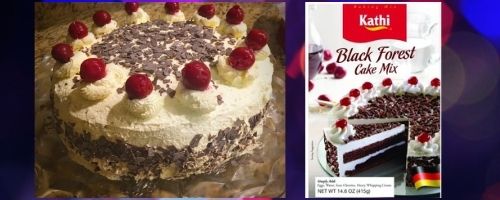 Finally a Baking Mix for a "Fail-Proof" Black Forest Cake!
---

How to Make the Wine Sauce (Weinsosse)
4 egg yolks
2 eggs
320 g sugar
1 tbsp corn starch
1 Liter red wine
Instructions Wine Sauce
– Combine sugar, eggs, starch and some wine (1/4 liter) and mix very well.
– Pour rest of the wine into a pan that should be high, add the sugar-egg mix.
– Heat the sauce until it thickens – Important: Never bring to  a boil!
– Let cool off and serve warm.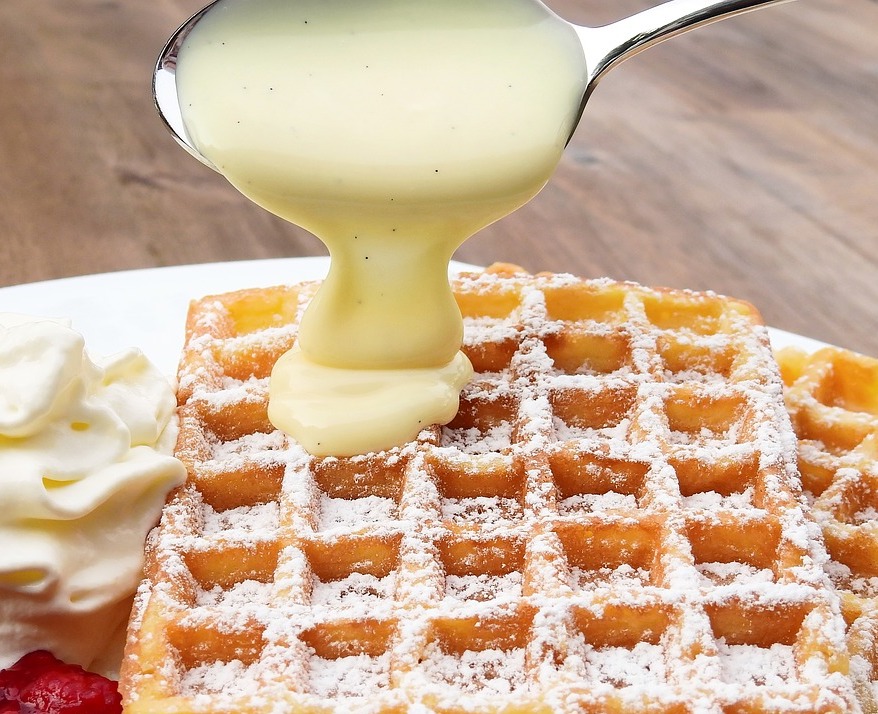 Or Get the German Vanilla Sauce from Dr Oetker – Fast and easy to make without cooking – can be enjoyed cold or warm.