In Germany we love to make this cake in summer with fresh fruit. The Strawberry Cream Roll (or roulade) is a German classic cake that you can make it you are a somewhat experienced baker. In German we call this cake "Biskuitrolle". It is a roll that is filled with a creamy and fruity filling. You can vary the filling by adding different berries such as blueberries or raspberries. If you have quark, add it to the filling and with some lemon zest you will have a lemon roll.
Ingredients Strawberry Cream Roll
For the Dough
5 tbsp flour (type 405 – See also all about flour – 
1 dash salt
5 eggs, separated
5 tbsp powdered sugar
1 package vanilla sugar (0.3oz each) – How to make Vanilla Sugar –
1 tsp (flat) baking powder Dr Oetker (not baking soda)
For the Filling
250 ml  heavy cream – 1 cup
1.5 cups chopped strawberries or alternatively raspberries or blueberries
sugar to taste
Baking Instructions Strawberry Cream Roll
MAKE THE BASE CAKE
– Pre-heat oven to 400 F.
– Separate eggs. Beat egg whites until firm.
– Combine egg yolks with egg whites in a bowl. Mix with a spatula.
– Add 5 tbsp powdered sugar and vanilla sugar, mix with a spatula.
– Mix flour with baking powder and add with salt to the dough, mix well.
– Line a rimmed baking sheet (15 x 10 inches) with parchment paper, fold the edges upward. Grease the parchment paper with some butter or spray with taste neutral cooking oil..
– Pre-heat oven to 175 C or 350 F (convection), 375 F regular oven.
– Spread batter on the parchment paper.
– Bake for 8-10 min. Do the tooth pick test by poking gently the dough; if no dough sticks to the pick it is done.
– When done remove from oven and place right away on a clean kitchen cloth.
– You do this by turning the cooled off baking tray upside down, so the cake lays flat on the kitchen cloth (see video).
– Remove the parchment paper very gently starting from the edges towards the middle.
– By using a kitchen cloth you roll the biscuit cake – keep it rolled so it can cool off completely (don't place in fridge). See the video below for instructions at 3:08.
MAKE THE FILLING
– Beat the heavy cream firm.
– Add the berries with some vanilla sugar (if not sweet enough). Mix well with a spatula.
– Unroll the cake carefully, then spread the filling evenly on it. Start in the middle and work towards the edges, keep 2-3 inches along the edges without filling.
– Roll it again with some slight pressure.
– Keep it at least 1 hour in the fridge before serving.
– Dust with powdered sugar.
---
This Dr Oetker raspberry cream can be used together with raspberries to make a raspberry roll.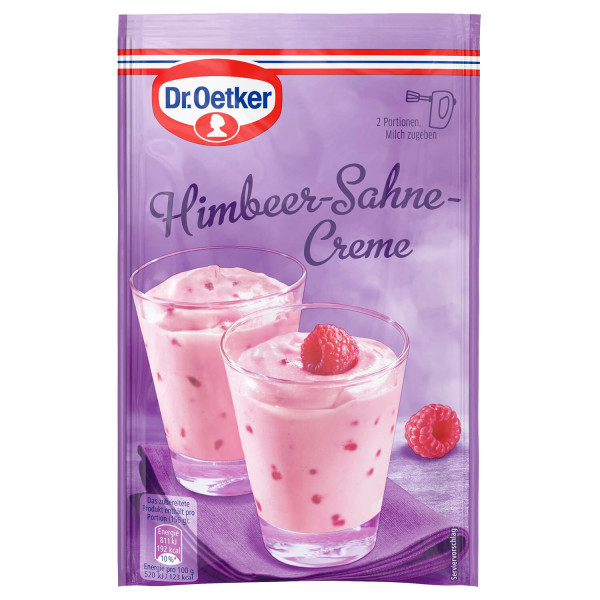 Tips
The strawberry cream roll tastes the best when kept over night at a cool place. Keep it at least for 1 hour in the fridge before serving.
If you use powdered sugar dust the rill right before serving and not earlier.
Add 250 g quark to the whipped cream and some lemon zest or lemon juice and you have a lemon roll.
Decoration Possibilities
You can just dust the roll with powdered sugar.
Squirt some whipped cream on top and place whole strawberries into the cream.
Melt some chocolate or get some ready chocolate sauce and draw some fine lines back and forth over the roll.
---
Video on How to make this Strawberry Roll, with English subtitles.
---