The German Rhubarb Streusel Cake is a great cake to bake in summer when rhubarb is available. We love this cake for the traditional  "Kaffee and Kuchen" time on Sunday!
Rhubarb is used in the German cuisine for compote, pastries, desserts and cakes. Originally rhubarb comes from the Himalaya region and entered during the 16th century Russia then later on other parts of Europe. Rhubarb stays fresh in the fridge, wrap it in a moist cloth or freeze it: Cut in small pieces and place into a freezing bag.
You would never use the leaves as they contain oxalic acid that can cause poisoning if eaten in high amounts like 5kg! Enjoy this German rhubarb streusel cake – Happy Baking!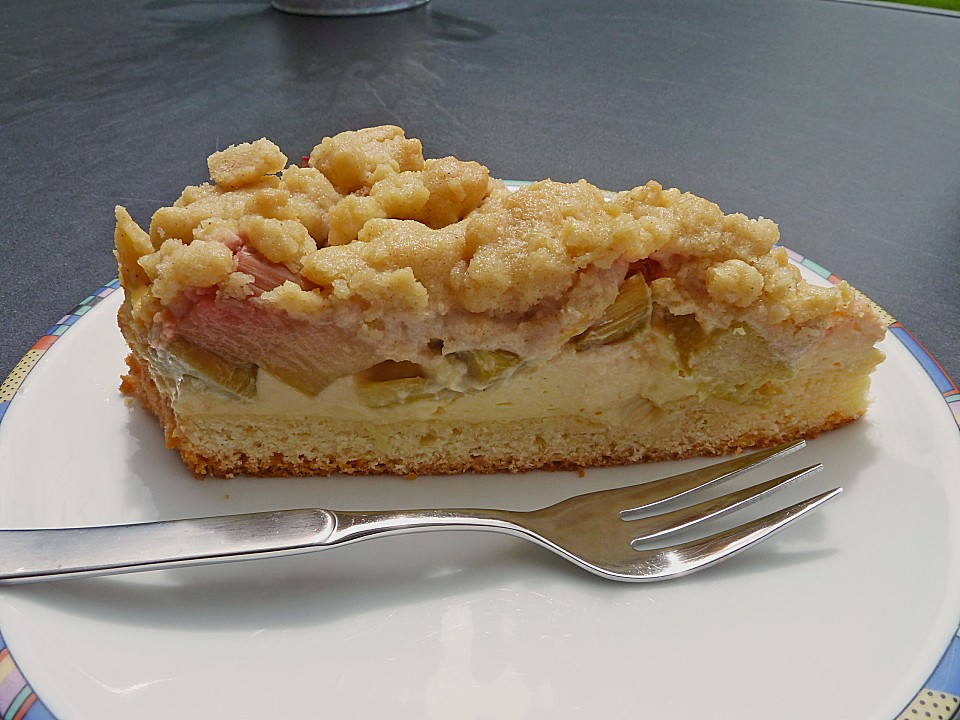 Ingredients German Rhubarb Streusel Cake
Dough
100 g butter
80 g sugar
1 package Vanilla Sugar Dr Oetker 0.3oz – How to make Vanilla Sugar –
2 eggs
75 g creme fraiche
180 g flour
1 tbsp heaped baking powder Dr Oetker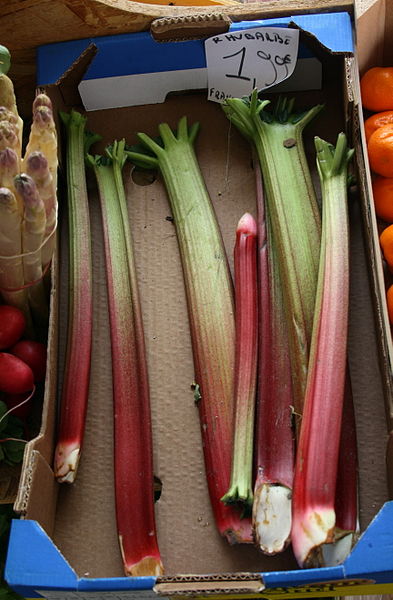 Topping
1 package vanilla pudding Dr Oetker, 1.8oz – How to make Vanilla Pudding –
40 g sugar
375 ml milk
125 g creme fraiche
Streusel
800 g rhubarb
200 g flour
100 g sugar + 1 package vanilla sugar – 0.3oz
150 g butter, cold
cinnamon to taste, powdered sugar
Baking Instructions German Rhubarb Streusel Cake
– Pre-heat oven to 370 F.
– Wash and peel rhubarb.
– Cut in small pieces, add sugar and let sit for about 30 min.
– Drain rhubarb in a sieve.
– Meanwhile mix all ingredients for the dough, knead well.
– Grease a spring form (diameter 28cm or 11 inches) with butter, sprinkle with flour or breadcrumbs.
– Fill the dough in spring form.
– Bake in pre-heated oven on 180 C or 370 F for 15 min. Don't turn oven off.
– Mix all streusel ingredients, knead until you get a crumbled dough.
– Make pudding per instructions, let it cool off while stirring.
– Add creme fraiche, spread onto the cake.
– Place rhubarb pieces on top and sprinkle with streusel.
– Place again in oven and bake for 30-35 minutes.
– Let cool off in form.
– Dust with powdered sugar if you like before serving the cake.