Posted on May 23, 2016 by admin
Have you ever looked for the best German Marzipan Chocolate Brownie Recipe? Here it is. It's an original German recipes that you will love using chocolate and marzipan. The best is to use raw marzipan but we found out that the so called German marzipan potatoes (Marzipankartoffeln) can be used too! Sometimes there are marzipan leftover from Christmas and they can be used for this recipe  – Happy Baking!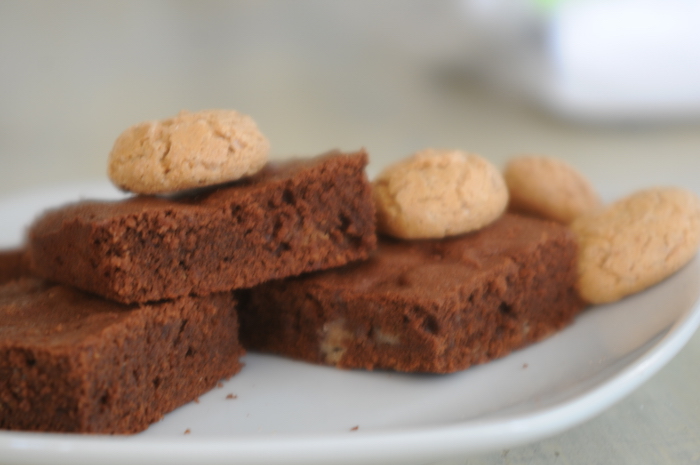 Ingredients German Marzipan Chocolate Brownie
250 g semi-sweet chocolate
200 g butter
250 g flour
200 g raw marzipan
6 eggs
100 ml sunflower oil
200g sugar
15-20 little amaretto cookies
Baking Instructions German Marzipan Chocolate Brownie
– melt the chocolate using the double boiler method.
– mix flour, sugar, butter, oil and eggs. Add the molten chocolate and mix well.
– cut the marzipan very fine with a sharp knife or grate it, then add to dough. The marzipan should be so fine that it will dissolve. Alternatively mix the marzipan with the eggs and puree it.
– crumble the amaretto cookies: place them in a freezer bag and crush them. Add to the dough.
– layer a baking tray with parchment paper and spread the dough onto it. If you use a cookie or cake form the baking time will be longer and the cookies will be thicker.
– bake for 20-25 min on 350 F
Tip:
Place the marzipan the day before in the freezer or place it for some hours in the fridge. That's the best way to grate it so you can use it for the brownies.
Related