German Sorrel Soup – Today I found at my local farmers market an interesting herb which I have not seen for ages: Sorrel. This vegetable is of a slightly sour taste, and has some history indeed. After WW II there was not much to eat in Germany, so everything what was eatable and could be found in the nature, as sorrel, was used in dishes.  But there is more to it. Sorrel is an herb for a so called "spring cure" as it is cleansing the blood, handles less appetite and is increasing digestion, especially after having enjoyed greasy food. It is rich of vitamin C as well. It is a soup that is worth it to try. Happy Cooking!
Ingredients German Sorrel Soup
100g  fresh sorrel
100 g spinach (optional)
2-3 tbsp chopped parsley
50 g butter
2 medium sized potatoes
500 ml Chicken broth or vegetable broth  (instant or cubes)
salt, fresh pepper
4 tbsp heavy cream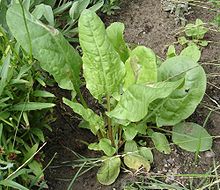 Cooking Instructions Sorrel Soup
– Wash sorrel and spinach leaves and chop them coarsely; chop parsley; peel potatoes and cut them into small cubes.
– Heat butter in a pan and add the leaves, saute them for 5 minutes, then add the potatoes.
– Mix it well, then add the broth.
– Spice it with salt and pepper and let it simmer for about 25 minutes.
– Puree the soup and add the heavy cream.
You can press it through a sieve or using a stick mixer to puree it.
Enjoy it with fresh bread.