Posted on December 4, 2018 by admin
Bethmaennchen are German cookies made from Marzipan, almond flour, powdered sugar and rosewater. The name comes from the family Simon Moritz von Bethmann in Frankfurt am Main, Germany. A legend says that the famous Parisian pastry chef Jean Jacques Gautenier developed the recipe at the Moritz von Bethmann's home in 1838.
Whoever originated this recipe, the Bethmaennchen cookies were decorated with 4 almond halves that stood for the names of the four sons, Moritz, Karl, Alexander and Heinrich.
It is a legend because Herr Bethmann died already 1826, so the recipe must be older. Enjoy the traditional Bethmännchen Cookies and Happy Baking!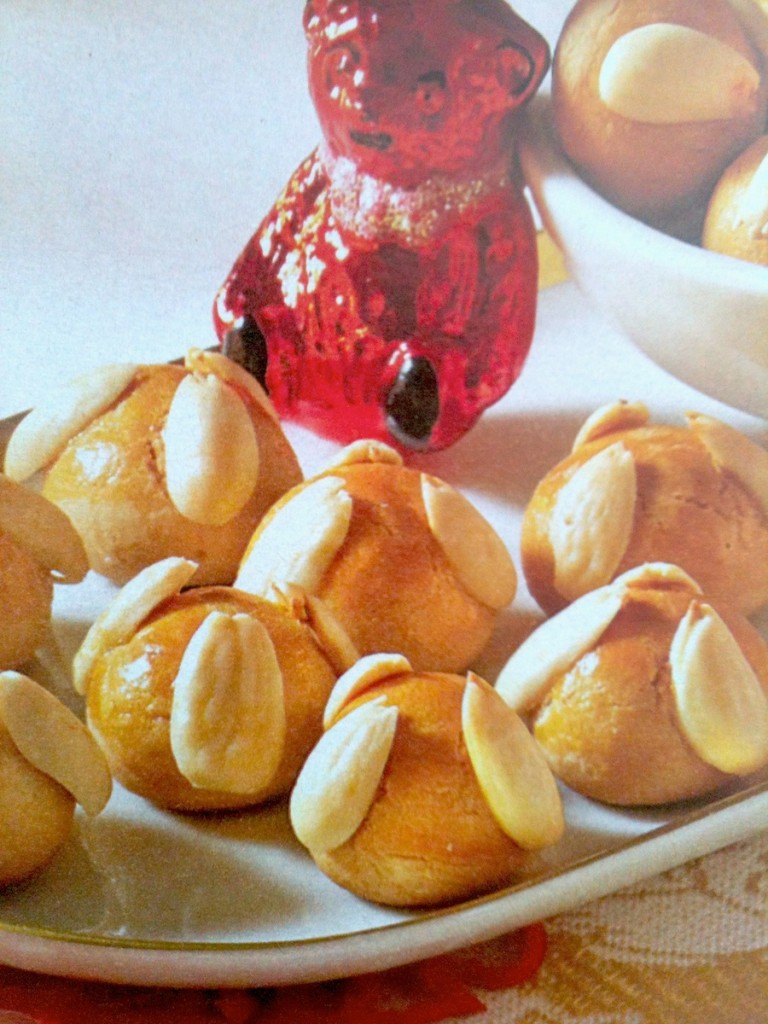 Ingredients Bethmaennchen
200 g almonds, peeled  (100 g almond flour and 100 g almonds, blanched cut in halves)
200 g marzipan (raw) – European Style Almond Paste- 66% Almonds (1 Lb Tub)

100 powdered sugar
1 tbsp rose water
50 g flour
2 eggs, medium
2 tbsp milk
Baking Instructions Bethmaennchen
– If you use unpeeled, brown almonds you need to blanch them first:
Find out How to Blanch Almonds – See the Video –
Bring a small pot of water to a boil.
Place your raw almonds into the boiling water.
Drain the almonds immediately in a colander or strainer and rinse them with cold water to cool them.
Blot the almonds dry with a paper towel.
Use your fingers to gently squeeze the almonds and loosen the skin from them.
– Grind half of the almonds to use as flour or use ready made almond flour. Cut remaining almonds in halves.
– Crumble or grate marzipan fine, mix well with rosewater, powdered sugar, egg, almond flour and flour.
– Form small walnut size balls out of the dough
– Place them on a baking tray layered with parchment paper.
– Mix 1 egg yolk with 1 tbsp milk and brush all over the balls.
– Press 3 or 4 almond halves on each side of the ball. If you cannot get blanched almonds that are pre-cut in halves just use one blanched almond and place it on the top.
– Bake in pre-heated oven for 15-20 min until golden, let cool off.
Related
Category: Bethmaennchen, German Christmas Baking, German Christmas Cookies, German Recipes Tags: bethmaennchen, bethmannchen, christmas, cookies, frankfurt, german, germany, holidays