Bohemian Yeast Dumplings or "Boehmische Hefeknoedel" in German, is a side dish that goes very well with any meat and a gravy, like Goulash or a roast. The classic traditional recipe from Bohemia is using flour, eggs, salt and milk. You would form the dumplings like mini loafs and then cut them but never use a knife. In Germany there are typical Dumpling cutters available or, if you cannot get one, you can use some yarn. Other recipes use rolls or bread as an ingredient. Happy Cooking!
Ingredients Bohemian Yeast Knoedel
1 kg wheat flour
1 dash salt
2 eggs
some warm milk
4 packages dry yeast
---
Cooking Instructions Bohemian Yeast Dumplings
– Mix all ingredients very good and knead the dough until you get a smooth dough.
– Form 4 thicker Knödel; then let them raise until size has doubled.
– In a big pot bring water with some salt to a boil.
– Place Knödel into the water for exactly 10 min, then turn them and let boil for another 10 min. Have the temperature on medium, not high. Water should not be bubbling.
– Remove the Knödel and cut in slices but don't use a knife. If you use  a knife it has to be very, very sharp! You would use yarn by placing it under the Knoedel, then cross it over the upper surface and pull. It will make a clean cut.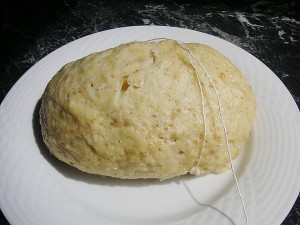 Serve these dumplings with 
– Goulash- click for the Recipe
– Pork or Beef Roast or
– Rouladen – Click for the Recipe
---