This is a special soup, the Camembert Soup with Riesling wine. Riesling is a classic and popular German white wine that finds usage in many German recipes.  It is used for soups, gravy and desserts.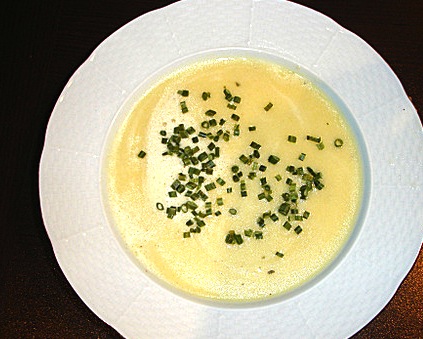 Camembert is one of the most famous cheeses in France. Although the cheese dates back only to the 18th century. It is named after a Norman village where there is a statue of its creator (Marie Harel). In 1855 the cheese was presented to Napoleon, introduced as from the village of Camembert. He enjoyed it very much and from that moment Camembert became known everywhere by this name.
Camembert Making: Made from pasteurized cow's milk. At the beginning of its ripening, Camembert is crumbly and soft and gets creamier over time (usually 2-3 weeks). An affinage of 21 days is legally required.
Ingredients Camembert Soup
1 cube vegetable broth (instant, the best is from the brand Rapunzel, contains no chemicals)
40 g butter
25 g flour
300 ml Riesling
250 g Camembert cheese
2 garlic cloves
salt, pepper
100 g heavy cream, chopped chives for decoration
Cooking Instructions
– Make broth with 600 ml hot water.
– Melt butter, add flour, mix it well on medium heat, the flour should not get brown, then add wine and the hot broth (never with cold liquids).
– Cut Camembert in cubes; peel garlic and squeeze it through a garlic press.
– Add garlic and cheese to the soup, let the cheese melt, then remove the cheese crust with a spoon.
– Add salt and pepper.
– Beat heavy cream until firm and add it before serving to the soup.
– Sprinkle chives on top and serve it hot with some fresh bread.