The Cherry crumble cake is a popular German "Streuselkuchen" made out of a shortcrust dough and a sour cherry filling. It is very easy to make and baking beginners will love it. You need sour cherries in a jar which are sold at stores such as  Trader Joe's and/or Aldi. You also can get them online.
The recipe asks for starch and in Germany we use "Mondamin" or "Gustin" from Dr. Oetker as it is a starch especially made for baking. If you cannot get Mondamin we recommend to use an organic corn starch. Corn starch is the strongest starch among starches that are made out of corn, potatoes or wheat. Potato starch is the weakest starch. This is a wonderful cake for any occasion. Try it out! Happy Baking!
Ingredients Cherry Crumble Cake
Dough
50 g starch (Mondamin, Gustin or Maizena)
200 g flour
1/2 tsp baking powder
1 egg
150 g sugar
1/2 tsp cinnamon and 1/2 tsp cardamom
1 dash ground cloves
125 g butter
Topping
1 jar sour cherries, 24oz
35 g starch (potato, tapioka)
1/4 liter cherry juice
1 package vanilla sugar Dr Oetker, 0.3 oz – How to make Vanilla Sugar –
optional: 1 tbsp cherry brandy or German Kirschwasser (Schnaps)
some powdered sugar

Baking Instructions Cherry Crumble Cake
– Knead all ingredients for the dough until you get crumbles, this is done the best with the hands.
– Press 3/4 of the dough into a greased spring form (sprinkle with bread crumbs), 10 inches.
– Drain sour cherries.
– Mix starch with some juice. Bring remaining juice to a boil and add the vanilla sugar and the starch.
– Add sour cherries.
– Preheat oven to 375 F.
– Spread cherries on top of the dough and add the remaining crumbles on top.
– Bake in pre-heated oven on 200 C or 375 F for 25-35 min.
– When cake has completely cooled off dust with powdered sugar.
---
A Gift for your Best Friends & Family – No Subscription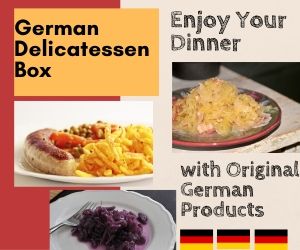 ---