Cherry Tartlets are an individual pastry case with a filling of fruit or other sweet or savory mixture. In Germany we fill them with all kinds of fruit such as strawberries, raspberries or blackberries. The filling also contains quark and if you cannot find it in your supermarket, you can make it easy at home with a quark maker or without. See links below. Happy baking!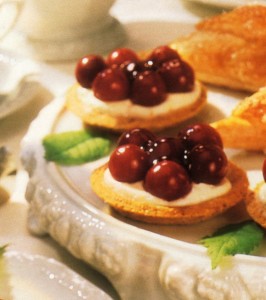 Ingredients (6-8 pieces) Cherry Tartlets

25 g sugar
80 g butter
1 pinch salt
1 egg
125 g flour
75 g ground hazelnuts
Filling

250 g quark (40%) – make your own quark or B
uy a Quark Maker Here
or use 125 g cream cheese and 125 sour cream
3 tbsp heavy cream
1-2 tbsp sugar
grated peel of 1 organic orange
500 g sour cherries (jar or fresh)
4-5 tbsp cherry jam
Cooking Instructions Cherry Tartlets
– Mix sugar, butter and salt until creamy; add the egg, mix in hazelnuts and flour. Knead the dough until it is smooth and wrap it in aluminum foil, keep it cool for 30 minutes.
– Sprinkle flour on a smooth surface, then roll  the dough; grease the tartlet forms and line the dough all around the edges. With a fork poke several wholes in each tartlet.
– Bake them in pre-heated oven for 12-15 minutes on 350 degrees F (170 C).
– For the filling mix quark, cream, sugar and orange pee, and fill it into the tartlets when they are done and had cooled off  a bit.
– Sour cherries (without pits) from the jar: Pour them through a strainer, let them drain, then arrange them on the tartlets. If you should use fresh sour cherries wash them, let them drain, take out pits, then arrange them on the tartlets.
– Heat cherry jam while steering and spread a thin layer over the cherries.