The Chocolate-Coffee Cake is originally a Polish cake which contains coffee liquor.  If you like coffee liqueur feel free to add it to the recipe. The chocolate coffee cake recipe is very simple. The dough looks thin at the beginning but during the baking process it will get firm. So no worries. The chocolate coffee cake is ideal for your Sunday "Kaffee und Kuchen" time. Happy Baking!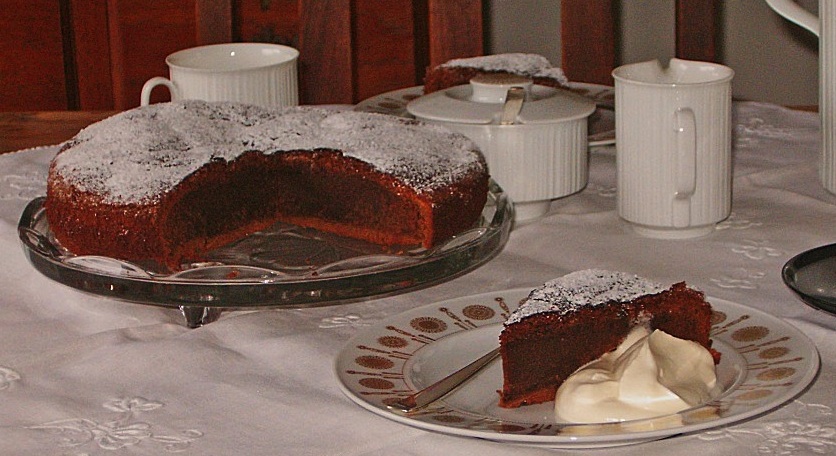 Ingredients Chocolate Coffee Cake
6 eggs
150 g dark chocolate (70% cocoa), without added sugar
180-200 g sugar (or if you like it sweeter 150g)
1 package Dr Oetker  vanilla sugar  (0.3oz) – How to make Vanilla Sugar –
100 g butter – 1 stick is 113 g!
75 g flour
5 tsp instant coffee (or more as desired)
powered sugar, whipped cream

Baking Instructions
– Melt chocolate with butter using double boiler method.
The Double Boiler Method
– Place a ceramic bowl into a pan with some water.
– Add the chopped chocolate into the bowl.
– Bring the water to a boil, then reduce the heat a bit.
– The chocolate will melt now.
– Beat eggs with sugar and vanilla sugar until foamy.
– Add flour, instant coffee and melted chocolate to the dough.
– Pour dough into a greased spring form (diameter 26cm) and bake for 35-40 min on the middle rack of the pre-heated oven on 180 C or 350 F.
– Before serving dust with powdered sugar and serve with whipped cream.