Rosenkuchen is a typical German cake recipe specialty that gets the name from the rose as it looks like a rose. It is made out of a yeast dough and combines 10-12 filled rolls. What a wonderful cake for the Sunday Kaffee und Kuchen table! Your family and friends will love it. It is similar to the filled "Zopf" which is the same dough but it will be braided. Happy Baking!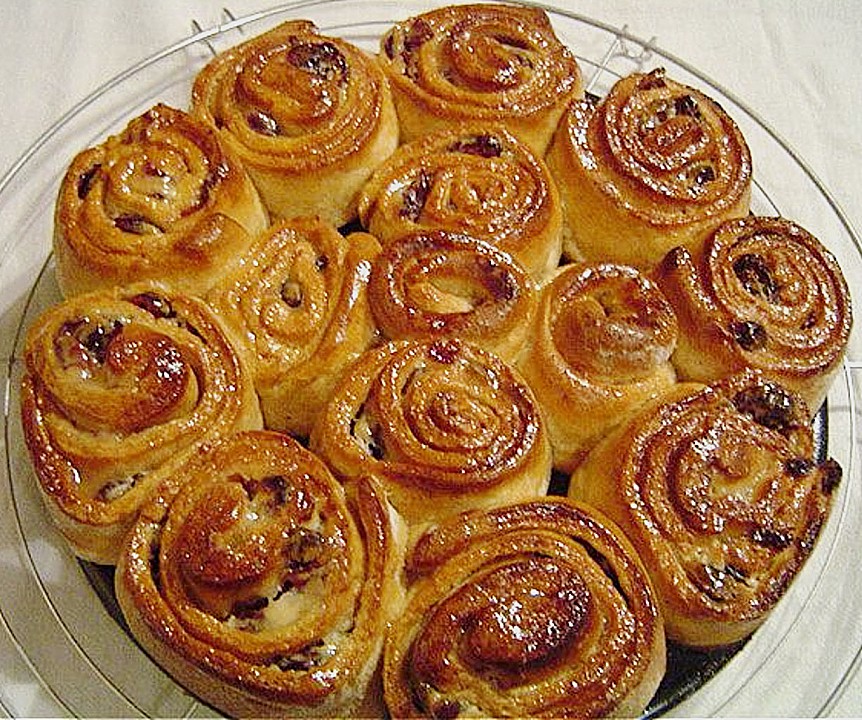 Ingredients German Rose Cake Rosenkuchen
400 g flour
1 egg
40 g sugar
1 package vanilla sugar 0.3oz – How to Make Vanilla Sugar –
100 g butter
1 cube fresh yeast (25 g) or 1 package dry yeast – see the page All about Yeast
125 ml milk
1 dash salt
Finally! A Yeast Dough Baking Mix from Germany! For all these Great cakes…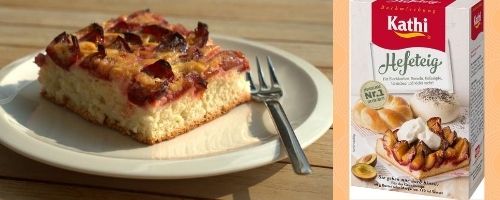 Filling
125 ml milk
1 egg
100 sugar
1/2 tsp cinnamon
2 tbsp cocoa powder
300 g hazelnuts, almonds or walnuts, ground
Glaze
1 egg yolk
2 tbsp sliced almonds – 1 tbsp water
1 tbsp apricot jam – 1 tbsp powdered sugar
Baking Instructions Rosenkuchen
– Combine flour with 30 g sugar, vanilla sugar and 1 dash salt into a mixing bowl.
– Make a mold in the middle where you place the yeast with 1 tbsp sugar. Add 1/8 l milk to the yeast and with some flour stir it until you get a so called pre-dough.
– Let pre-dough raise for 10 min (it will get bubbly).
– Add 1 egg and the soft butter, then with the kneading hooks of the hand mixer knead the dough for 3 minutes.
– Cover with a kitchen cloth, and let raise for another 30 min.
– Bring 1/8 l milk and 100 g sugar with cinnamon and cocoa powder to  a boil. Remove from heat, then add the ground hazelnuts or walnuts. Let it cool off a bit, then add 1 egg.
– On a baking board that is dusted with some flour roll the dough to a rectangle (12 x 16 inches, 30x40cm).
– Spread the filling on top but not around the edges for about 1 inch.
– Roll it from the longer side and cut in 10-12 slices.
– Place the rolls with the cutting edge down in a greased spring form (26 cm or 10 inches)
– Cover and let raise for another 20 min.
– Pre-heat oven tp 375 F.
– Mix egg yolk with water and brush it over the cake; sprinkle with almond slices
– Bake in pre-heated oven on 200 C or 375 F for 30-40 min.
When the cake is done, glaze it right away with the apricot jam. Before serving dust it with powdered sugar.
NOTE: The filling is not sweet, if you like it sweet add some sugar to it.
TIPS
– Add raisins and/or marzipan
– Vary it with a poppy seed filling
– Use vanilla pudding for the filling – use the one from Dr. Oetker or make your own pudding – Find the recipe here –