The Franzbrötchen cinnamon rolls from Hamburg is a traditional pastry of the German city Hamburg. Back in 1806 to 1814 the French occupied Hamburg and during that time a so called "Franzbrot" was made which is known as baguette today. During that time a baker from Hamburg accidentally  made the rolls by searing such a Franzbrot in a pan of fat. But this is a legend… This is a proven German recipe and easy to make. You can watch the video, although it is in German you can follow the steps. Happy Baking!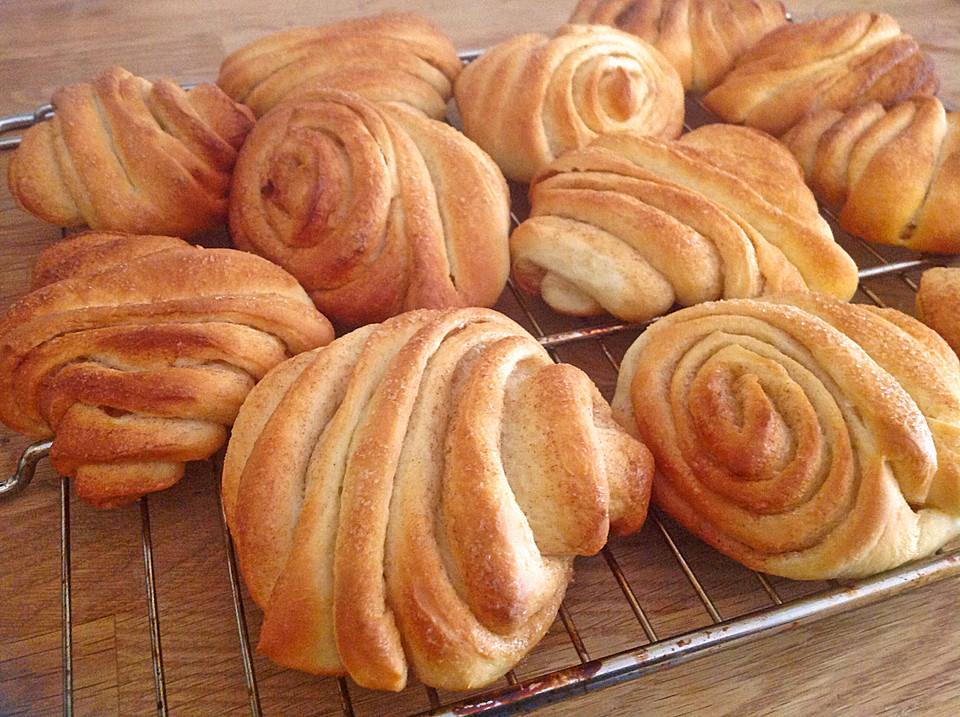 Ingredients Franzbrötchen Cinnamon Rolls from Hamburg
Dough
200 ml lukewarm milk
1 package dry yeast
50 g sugar
500 g flour
50 g soft butter
1 egg, 1 dash salt
Filling
120 g very soft butter (should be creamy, not liquid)
50 g sugar
1 tbsp cinnamon
for the topping: some sugar, cinnamon, butter flakes, some flour for the baking board
Baking Instructions Franzbrötchen Cinnamon Rolls from Hamburg
– Warm the milk and dissolve the yeast.
– The milk should be lukewarm and not hot.
– On a baking board place the flour; in the middle form mold and add the egg and milk.
– With a very small spoon mix little by little egg and milk with the flour.
– You should get a dough that can be kneaded. Knead dough, add the butter and the salt. Continue kneading. Should the dough be too moist add some more flour.
– Place the dough into a bowl, cover with a kitchen cloth.
– Let raise at a warm place for 45 min.
– Knead the dough again and let rest for another 20 min.
– Sprinkle some flour on a baking board or smooth surface, then roll the dough into a big rectangle.
– Mix the very soft butter with sugar and cinnamon and spread the cream over the dough.
– Roll the dough starting with the longer side. If the dough should not be elastic enough let it rest for another 5-15 min, then continue rolling.
– Pre-heat oven to 350 F.
– Cut the roll in 2 inches thick pieces and place them on a layer of parchment paper.
– Take a cooking spoon (or a fork) and press the long handle into the middle (vertical) on each piece (see video)
– Cover with a kitchen cloth, and let raise for 20 min.
– Sprinkle some butter flakes and the sugar-cinnamon mix on top.
– Bake for about 20 min.
VIDEO: How to make Franzbroetchen (in German only)
In the video she is not mixing the butter with sugar and cinnamon, she adds it one after the other which is a possibility. Just make sure that the butter is not liquid.