German Apple Sauce or Apfelmus is a great side dish for potato pancakes (Reibekuchen) or with Griessbrei (semolina pudding) and it can be used in cakes as well. It is very easy to make and as any home made dish it is all natural. Some brands use preservatives which is mere nonsense. Try it out and let us know how you liked it. Happy Cooking!
Click here to go to the Recipe Potato Pancakes or Reibekuchen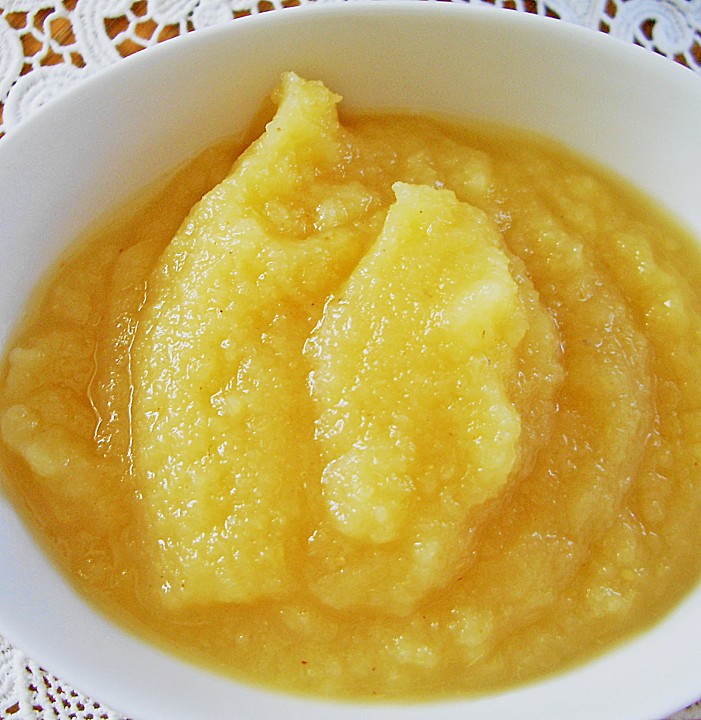 Ingredients Apple Sauce Apfelmus
1 kg apples (Gala or Pink Lady)
100 ml organic apple juice
vanilla sugar and cinnamon to taste, it the apples are sour use more sugar, 2 packages of vanilla sugar should be fine – How to make vanilla sugar from scratch-
Cooking Instructions German Apple Sauce Apfelmus
– Wash and peel apples, remove the core and cut in cubes.
– Place the cubes in a wide pot and add the juice.
– Let cook for 10 min.
– Puree the apples or use a masher.
– Add vanilla sugar and cinnamon to taste (don't use too much cinnamon, it is quite strong).
Why adding apple juice? It prevents that the apple sauce will get brownish. It keeps the nice golden yellow color. So no preservatives necessary!