This festive German Christmas Apple Cake is perfect for the holiday menu. It is a multi-layered cake, a "Torte"  as we say in German. To make this cake you would need a cake ring as it is higher than a regular cake. The original recipe is using German gelatin and vanilla sauce which we also recommend to use. Happy Baking!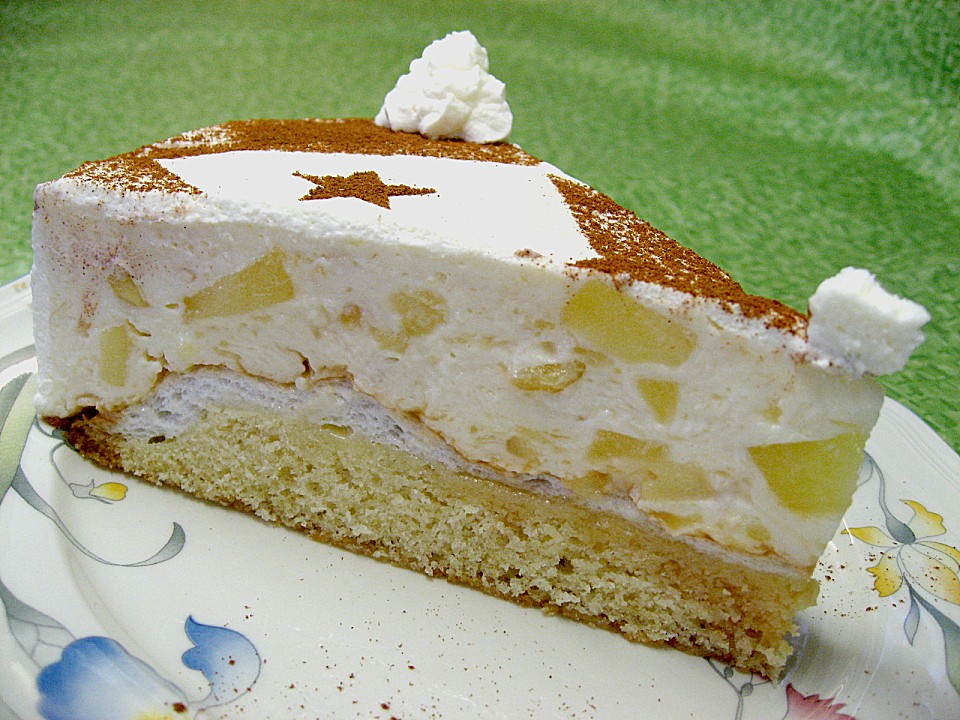 Ingredients German Christmas Apple Cake
80 g butter, soft
175g sugar
2 pack. vanilla sugar 0.6oz – How to make Vanilla Sugar –
3 eggs
100 g flour
1 tsp baking powder, Dr Oetker
3 tbsp milk
50 g powdered sugar
500 g apples
2 tbsp lemon juice
1 package vanilla sauce (no cooking, Dr. Oetker, see below) – How to make Vanilla sauce –
6 sheets white gelatin
300 g natural Greek yogurt
250 g mascarpone cream
250 g heavy cream
1 tbsp cinnamon for decoration
BAKING MIXES MADE IN GERMANY – EASY TO FOLLOW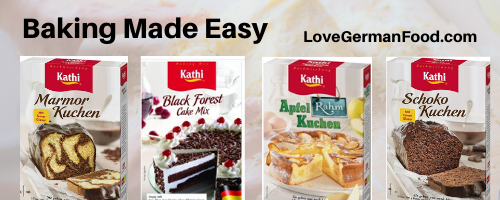 Baking Instructions German Christmas Apple Cake
– Beat butter until bubbly, add 80 g sugar and 1 pack. vanilla sugar (o.3oz).
– Separate 2 eggs, add egg yolks and 1 egg to dough, beat until creamy.
– Mix baking powder with flour, add to dough, then add milk.
– Grease a spring form (26 cm, 10 inches).
– Fill dough in spring form, spread even.
– Beat egg white until firm, while beating add powdered sugar.
– Spread firm egg white on top of dough.
– Bake in pre-heated oven on 157 C or 315 F for about 30 min.
– Let cool off.
– Peel apples, cut in quarters, remove core. Cut in small cubes.
– Bring apples with lemon and apple juice and 50 g sugar to a boil, let simmer for 3-5 min.
– Mix vanilla sauce powder with some water, add to apples.
– Let apples cool off.
– Soak gelatin for 10 min in water.
– Combine mascarpone, yogurt, 1 pack. vanilla sugar and 50 g sugar
– Squeeze water out of gelatin, dissolve on low heat. Mix with yogurt cream, then add apples.
– Remove cake from form, place a cake ring around the cake.
– Place the apple cream on top of cake and spread smooth and even.
– Keep cake for 4-5 hours in the fridge.
– Remove the cake ring.
– For decoration use stencil or cut out stars, place on cake and dust with cinnamon.
– Remove paper carefully.
---