The German Coffee Honey Cake or "Honigkuchen" (honey means Honig) is easy to make and tastes wonderful when you spread butter on the slices. That's the way Germans enjoy the Dutch honey cake which is a similiar cake. TIP: If you turn the raisins in flour before you add them to the dough they will not sink down to the bottom of the cake. Happy Baking!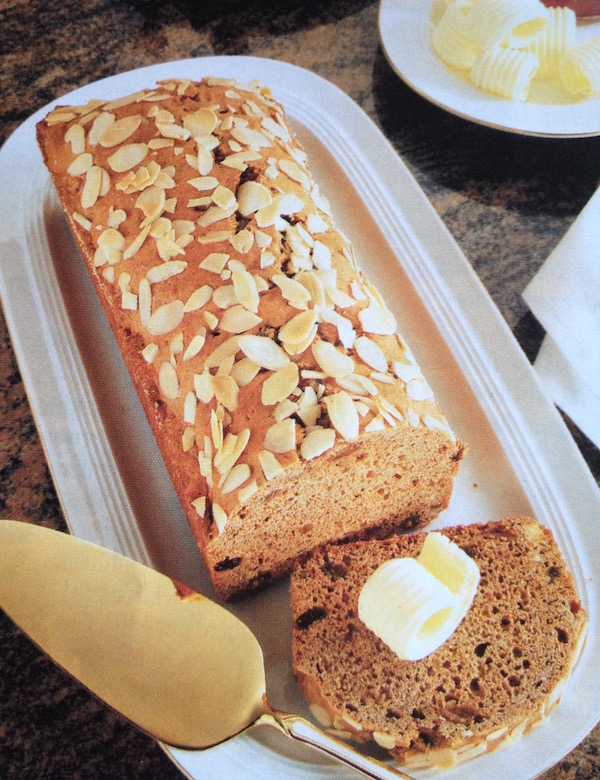 Ingredients German Coffee Honey Cake
40 g raisins
2 tbsp chopped orangeat (candied orange peel) – How to make Candied Orange peel –
2 tbsp dark rum
350 g flour
3 tsp instant coffee
2 tsp instant cocoa powder
3 tbsp sun flower oil (or any taste neutral oil)
150 g liquid honey
3 eggs
75 g sugar
2 tsp lemon zest
1 tsp backing powder (Dr Oetker)
1/4 tsp natron (baking soda)
1/4 tsp cinnamon
1 point of a knife ground cloves
1/4 tsp salt
almond slices (blanched) for the top
butter and natural, natural bread crumbs for the form
Baking Instructions German Coffee Honey Cake
– mix raisins with rum, let soak for 30 min.
– separate eggs, beat egg yolks until foamy.
– mix instant coffee and cocoa with 1 tbsp hot water, add oil, honey, sugar and lemon zest.
– combine flour with baking powder, natron and all spices, sieve it, add to dough.
– mix well. Then add raisins and candied orange peel.
– beat egg white until firm, gently fold into dough.
– grease a pound cake form, sprinkle with bread crumbs.
– fill in dough and sprinkle with almond slices.
– bake in pre-heated oven for 75 min on 375 F.
When done let cake cool off briefly then place it on a cooling grid.