German Kale Soup: "Grünkohl" or Kale is a typical German vegetable which is used in many German recipes for seasonal fall or winter recipes. Frozen kale is very convenient for making a soup; use it fresh or frozen, and keep on mind that the cooking time for kale is always quite long.  If you cannot get frozen kale, fall or winter is the season to find fresh kale in almost any supermarket.
Tips: Select only kale with crisp dark leaves; avoid bunches with limp, wilted, or yellowed leaves. Kale can be stored for several days in a plastic bag in the refrigerator crisper; sometimes you can store Kale even for more than 1 week.
If you use fresh kale for this recipe wash it well. Discard any limp or discolored leaves, and cut away tough stems. Shred, chop, or cook whole (cut large leaves in half). Happy Cooking!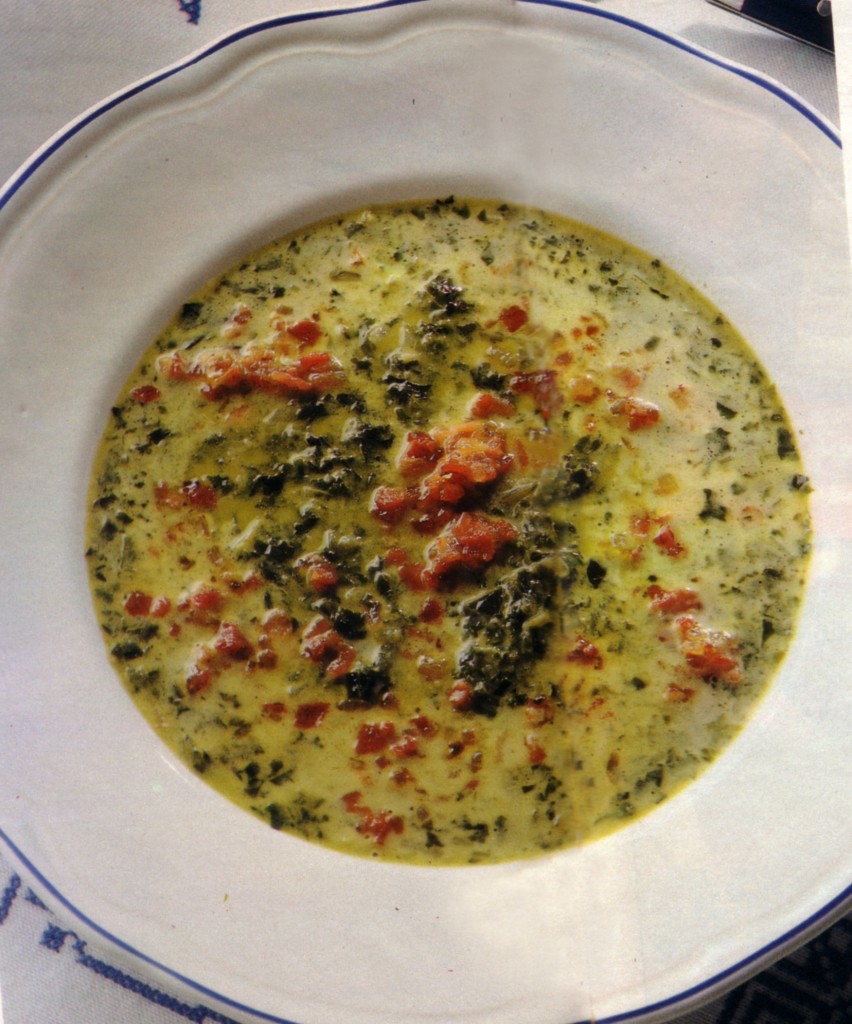 Ingredients German Kale Soup
3 small onions (300 g)
30 g butter or clarified butter
600 g kale (frozen, chopped)
1 1/2 l vegetable or beef broth – How to make Vegetable Broth  – 
100 g bacon or German Speck
3 tbsp instant mashed potato powder or 1 grated potato
1/8 l heavy cream
salt, pepper to taste
Cooking Instructions German Kale Soup
– Peel onions, chop them fine, and sauté half of them in butter until transparent.
– Add frozen kale and fill it up with broth; let it simmer for 50 minutes on low heat.
– Cut bacon in cubes; in a pan fry it without adding any additional grease.
– Add the remaining onions and sauté them until transparent.
– Add the potato powder to the kale and bring it again to a boil; add the cream, spice with salt and pepper.
– Before serving the soup sprinkle the bacon-onion mix on the soup.
Serve with fresh bread and butter.