The German Krautkrapfen are a local specialty from the South of Germany, the Allgaeu, a Southern region with beautiful hills and meadows. Famous for hiking, skiing and good food.
They produce a lot milk products like cheese, yogurt and quark.  Krautkrapfen are filled with Sauerkraut, Speck and will be baked in the oven. They taste good warm or cold and the best with a glass of German beer. Find the German Sauerkraut in the German Delicatessen Box from LoveGermanFood.com –  Happy Cooking!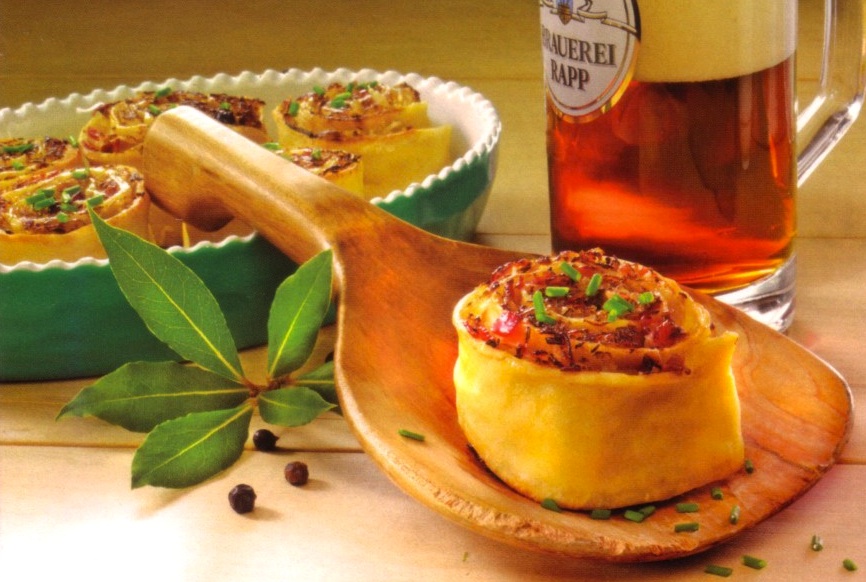 Ingredients  German Krautkrapfen
(serves 4)

For the Dough
300 g flour
1 dash salt
2 eggs
4-6 tbsp water
flour to roll the dough
For the Filling
750 German Sauerkraut (1 jar/can)
2 tbsp oil
1 small onion
100g bacon or German Speck
4 juniper berries
250 beer, light (such as Lager)
pepper, salt, caraway seeds to taste
sunflower oil
chopped chives
Cooking Instructions German Krautkrapfen
– Mix all ingredients for the dough and with the hands (have them dusted with flour) knead until you get a dough that can be formed into a ball.
– Cut the ball in half and roll each part to get 2 thin rectangles.
– Drain Sauerkraut and with a fork loosen it up.
– Chop onion, bacon into small cubes.
– Heat oil, saute onions for 1 min, add bacon, saute until bacon is somewhat crunchy.
– Add the spices and the beer.
– Let simmer for 20 minutes on low heat (covered).
– Place Sauerkraut on the rectangles and roll them beginning from the longer side; squeeze the ends together.
– Cut the rolls in 4 cm wide pieces (2 inches).
– Fry them in hot oil.
– Place into a flat fire proof form (brush some oil on the bottom of the form).
– Bake for 30 minutes in pre-heated oven on 180 C or 350 F.
Sprinkle chopped chives on top before serving.
---
Contains the Best German Sauerkraut!
---