Find out today how to make the apple streusel cake which is a very popular cake in Germany.  The cake has a filling that contains quark which is very common in Germany, and can be bought at every super market. You can make it at home or use a mix of soft cream cheese and Greek yogurt (it's not quite the same but it tastes good)
Maybe you know that Sunday afternoons are dedicated to "Kaffee and Kuchen" – coffee and cake. Around 3-4pm the family, or friends would gather at home or in a Cafe (they are exclusively open on Sundays!) and everyone enjoys a cup of coffee or tea with a piece (or several) of cake. The apple streusel cake is one of these popular coffee cakes.
How did the Coffee and Cake Tradition start?
In 1675 the first Cafe was opened in Bremen (North of Germany) – it was called the "Haus Schuettig", and it was this Cafe that brought the tradition of coffee and cake to the royal court of Berlin. As a result more and more Cafes opened in the following years in big cities such as Hamburg, Berlin, Regensburg and Leipzig. Cake was added, especially apple cakes because after the apple harvest in fall every region comes up with different variations of apple cakes and they were served in the Cafes.  Happy Baking!
Ingredients Apple Streusel Cake
Streusel
250 g flour  – 8oz, 2 cups
125 g sugar – 4.4oz
1 package vanilla sugar – 0.3oz – How to make Vanilla Sugar –
alternatively vanilla extract
125 g butter – 1/2 cup
Filling
500 g apples – 1 lb
150 g butter – 2/3 cup
125 g sugar – 4.4oz
2 eggs
500 g quark – 17oz   –How to make Quark –
1 package Vanilla pudding Dr. Oetker – How to make Vanilla Pudding –
or 70 g corn starch – 2.4oz
some butter and flour for the spring form
1 tbsp powered sugar
sugar cinnamon mix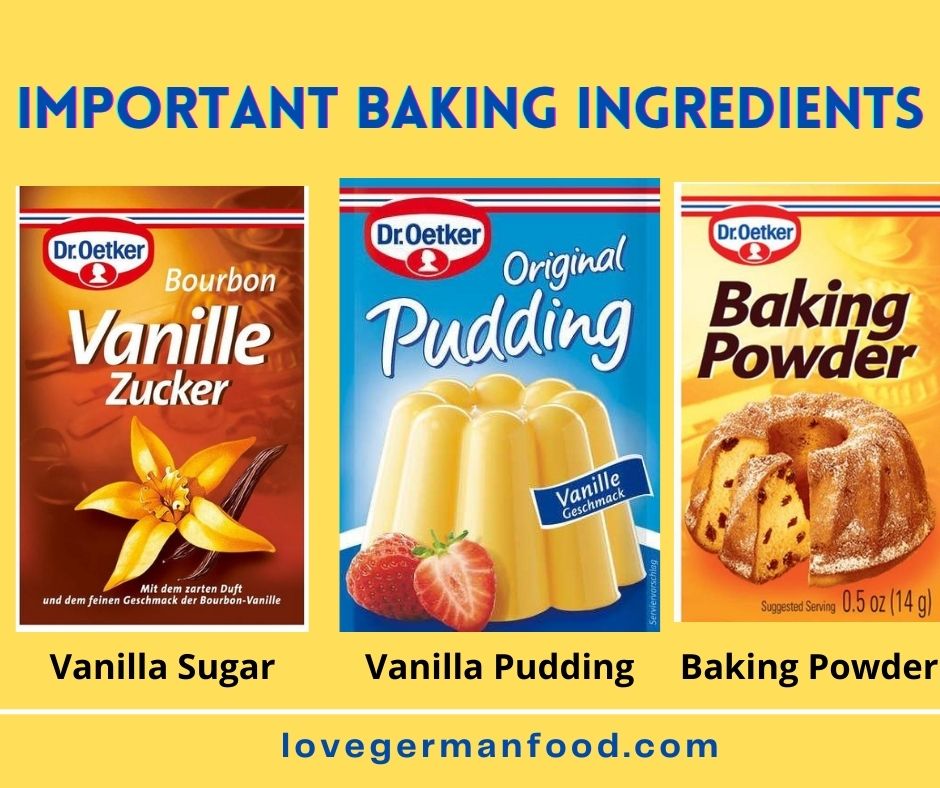 Baking Instructions Apple Streusel Cake
– Peel apples, remove core and seeds, cut them into slices.
Dough
– Mix the streusel ingredients, knead them to get a crumbly dough.
– Grease the 26 cm or 10 inches spring form, sprinkle with flour.
– Take 2/3 of the dough and squeeze it gently on the bottom of the greased spring form and along the rim (1 inch ).
– Place apple slices on top and sprinkle them with a mix of sugar and cinnamon.
– Make the filling by mixing soft butter, eggs, quark, pudding powder or starch.
– With a hand mixer on low level mix well.
– Pour the filling over the apples.
– Sprinkle top with remaining streusel and some cinnamon-sugar mix.
---
NEW: Kathi Streusel Cake Baking Mix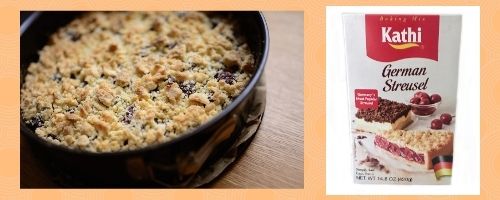 Bake for about 45 minutes on 200°C or 390 F.
Tip
Instead of apples use sour cherries, apricots or peaches.