The German Potato soup is a very popular soup in Germany, and, as you probably know, Germany is the country with the best potatoes. There are special potatoes for salad, mashed and fried potatoes. This potato soup is a classic soup which is easy to make, and it tastes very good combined with Wiener sausages or Frankfurters. It is a so called "Eintopf" – everything is combined and cooked in one pan. You can slice the sausages or just add them as whole to the soup 10 minutes before your serve it. Happy Cooking!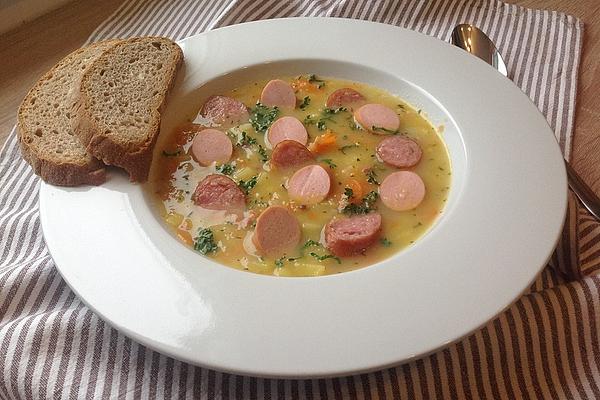 Ingredients German Potato Soup
(serves 4)
1 kg potatoes (7-8, small to medium sized)
2-3 carrots
1 leek
1-2 celery stalks or 1/2 celery root
1 bay leave
1.5 liter water
1-2 cubes instant vegetable broth (organic, eg from Rapunzel) – optional
salt, pepper, to taste; 1 dash nutmeg
1 tbsp butter or cooking oil (olive, sunflower, canola)
2-3 tbsp parsley, chopped
4 Wiener sausages or Hot Dogs
Cooking Instructions German Potato Soup
– Peel potatoes, wash and cut into small cubes.
– Peel carrots, cut into small cubes or slices.
– Chop onion fine.
– Cut leek into very small slices; cut celery root into small cubes or slice celery stalk.
– Melt butter in a large pan. Add onions and saute until transparent.
– Place all vegetable in the large pan, fill up with purified water until vegetable is covered. Add the bay leave and if you like the instant broth cubes.
– Bring to a boil, then reduce heat, cover pan with a lid, and let simmer for app. 25 minutes. Mix now and then.
– Take one third of the soup into a bowl and puree it with a  mixer. This will help to thicken the soup.
– Spice with salt and pepper and nutmeg.
– The soup should not be too thin. If the soup is too thin add 2 tbsp heavy cream combined with 1 tsp flour (optional).
– Bring the soup again to a brief boil, then reduce heat.
– Add the sausages to the soup, as whole or sliced. Keep in the soup for 10 minutes; sausages should be hot.
– Sprinkle parsley on top before serving.
Looking for a Wonderful Christmas Gift?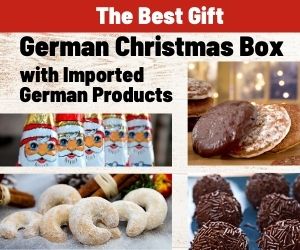 ---

TIPS
– If you like the Bavarian Weisswurst (or Bratwurst): Peel the skin off the sausages and cut them in slices. Roll the slices in flour and fry them in hot butter or oil. Serve with the soup.
– Add other veggies to the soup.
– Fry chopped onions in 1 tbsp olive oil until transparent, add vegetable and potatoes and fill up with water – you won't need to use broth.