Posted on December 27, 2018 by admin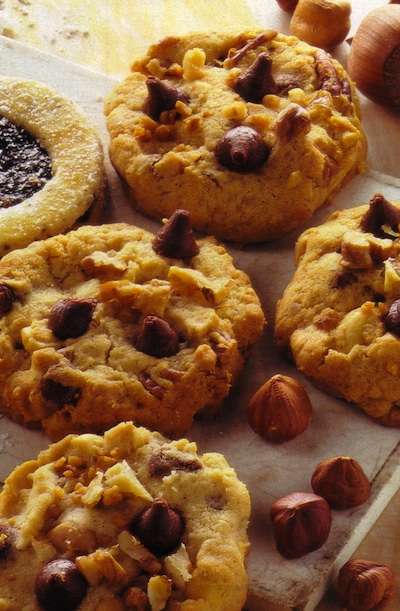 Ingredients German Peanut Cookies
(makes 80- cookies)
300 g flour
1 heaped tbsp baking powder
1 egg
150 g walnuts
1 dash salt
200 g soft butter
75 g peanut butter
2 vanilla beans
175 g raw sugar
250 g dark baking chocolate chips
150 g peanuts, salted, roasted, roughly chopped
Baking Instructions German Peanut Cookies
– Sieve flour, salt and baking powder into a bowl.
– Whisk the egg; chop walnuts coarsely.
– Mix butter, peanut butter and vanilla seeds until foamy (use hand mixer for about 8 minutes), add sugar and mix for another 4 minutes; at last add the egg and mix it.
– Add the flour mix; add 175 chocolate chips, peanuts and walnuts and with a wooden spoon mix the dough.
– Layer baking tray with baking paper.
-Pre-heat oven to 360 F.
– With a wet teaspoon place little dough heaps on the tray (distance 2 inches, 5 cm) and flatten them a bit. Sprinkle remaining chocolate chips on top of them.
– Bake for 12-14 minutes on 170 C or 360 F.
– Let them cool off on the tray then place them on a cooling grid to cool off completely.
Related