Find out about a special meat specialty: Schäufele (scheufele) Recipe – Black Forest meat specialty. In my childhood we would have this meat dish served exactly as shown on the photo below on Christmas eve, the evening were Christmas gifts are exchanged in Germany.
Depending on the German region special dishes are served that night. In the South near the Black Forest (The Baden region) and between Lake Constance and Stuttgart dinner on the 24th can consist of the meat dish called"Schäufele" which is mainly served with Swabian potato salad.
This meat dish has many names:  Schäufele, Schäuferle, Schäuferla, Schäufala oder Schäufelchen. In Switzerland and Alsace it is called Schüfeli, Schiifele oder Schiifeli.
Schäufele is similar to the smoked pork chops "Kassler" from Hessen but cooking styles vary from region to region. In the region near the Black Forest you would first cook the meat in a wine-water mix, and you get the most delicious broth. When the meat is cooked you serve it sliced with potato salad, bread and mustard, the broth would be used for a typical Swabian "Noodle soup".
So far I could not find this meat prepared as Schäufele in the USA. Important is the way how it is smoked and brined, that makes the difference. You could use Kassler instead. Happy Cooking!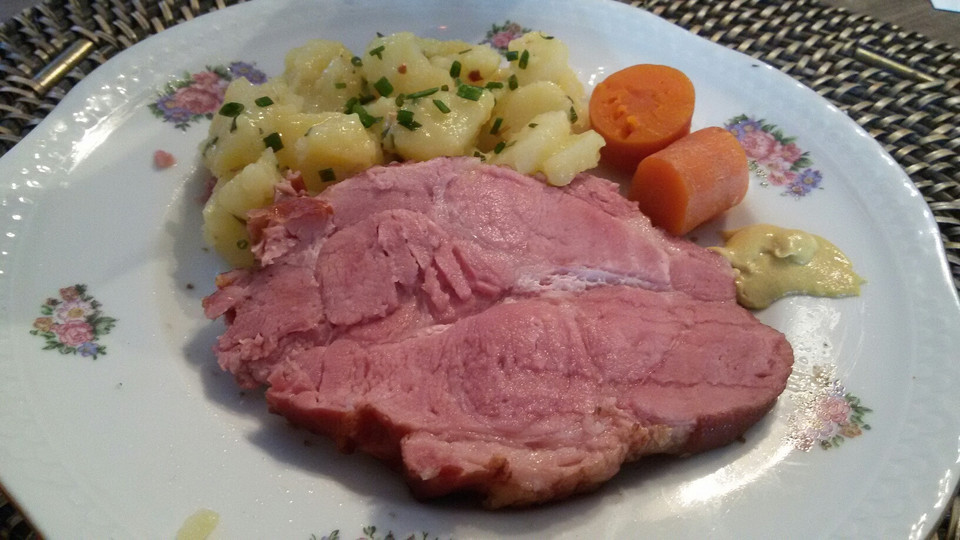 Ingredients Schäufele Recipe – Black Forest Meat Specialty
2 kg pork shoulder point, cured and smoked with bones
1/2 l white wine, dry
1 onion
2 cloves, 1 thyme branch,  1 tbsp white pepper corns
1 1/2 kg potatoes
salt, 2.5 tbsp vinegar, oil, fresh grated pepper
Cooking Instructions Schäufele Recipe – Black Forest Meat Specialty
– Mix wine with 1.5 l water in a big pot; peel onion, stick the bay leave with the cloves into the onion, and bring to a boil.
– Place the meat in the water, reduce temperature and let simmer for about 2 hours.
– For the potato salad, boil potatoes first then peel them.  Let cool off.
– Cut potatoes in thin slices and mix with 1/4 l of the Schäufele broth; add vinegar and oil, salt and pepper to taste.
– The meat is done when it comes of easily from the bone. Before the meat is done spice the broth with salt and pepper.
– Slice the meat and place it on a warm plate; drip some of the broth over it and serve it with the potato salad and lettuce.
Serve with a glass wine of dry white wine (Riesling or Mueller Thurgau).