So good for the cold winter months: German Sausage Stew with vegetables. Easy to make, just cooks in one pot. Vary it with different sausages. Add some vegetable of your choice. Happy Cooking!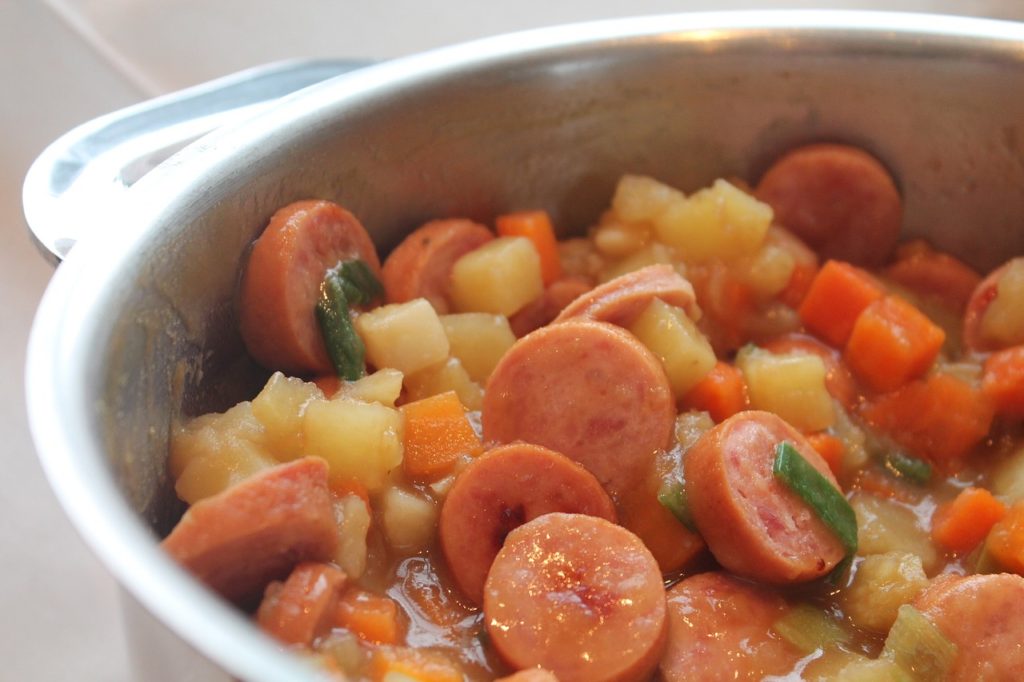 Ingredients German Sausage Stew
4 Nuremberg sausages or Bratwurst  (Aldi has some good ones)
OR 4 Wiener or Frankfurter sausages
400 g carrots
1 kg potatoes
1 onion
2 tbsp oil
3 tbsp tomato paste
2 tbsp flour
1 Liter broth (beef or vegetable) – How to make Vegetable Broth –
salt, pepper to taste
1 tbsp chopped parsley
beer (optional)
Cooking Instructions German Sausage Stew
– Cut sausages in small pieces. Peel carrots, slice them.
– Peel potatoes and onion, cut in cubes.
– Heat oil in  a big enough pan, brown sausages on high heat for max. 3 min. Remove sausages from pan.
– Add potatoes, carrots and onions, brown them for 1-2 min. Add tomato paste. Mix well.
– Dust with flour, mix well.
– Add broth, cover and let simmer for 15-20 min.
– Combine with sausages, spice with salt and pepper to taste.
– Sprinkle with chopped parsley.
If you like add some dark beer to the stew, use 3/4 l broth and 1/4 liter beer. It adds a zesty taste to the stew.