Today learn how to make the healthy Broccoli Potato Soup, it is an Authentic German recipe. You don't need any special ingredients. This soup is made in 20 Minutes. It can be frozen or made for some days in advance. A healthy soup for every menu and diet. Happy Cooking!

Ingredients Healthy Broccoli Potato Soup
500 g broccoli, organic
2 larger potatoes , organic
1 small celery
2 tbsp butter
1 small onion
1 liter vegetable broth, organic, instant from Rapunzel or water
salt, pepper to taste
1 dash nutmeg
100 ml heavy cream (optional)
Cooking Instructions Healthy Broccoli Potato Soup
Chop onion fine. Cut celery in small pieces.
Peel potatoes, cut in small cubes.
Cut broccoli flowers of the stem.
Heat butter and saute onions for 3 min.
Add broccoli, potatoes and water or broth. Let cook for about 20 Min on low heat. Both veggies should be soft.  Remove from heat.
By using a stick mixer puree the vegetable in the pot.
Spice to taste, add the heavy cream.
Tips
If you use broth don't add more salt.
The soup tastes just fine with water and no instant broth.
Add some grates Parmesan cheese on top.
Instead of heavy cream add some cream cheese.
If you cannot use dairy products use some soy or unsweetened coconut milk.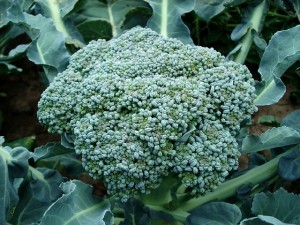 Why is Broccoli a healthy vegetable? We found a great article that includes all information about broccoli.
GO to the ARTICLE