The Kassler Roast recipe is easy to make.  You would get the meat called "Kassler" in one piece. And basically you make it like a beef or pork pot roast. If you have a place that sells Kassler ask them not to slice it. They also can remove the bones. This is a great German recipes for the holidays or Thanksgiving. Serve it with Sauerkraut and mashed potatoes. It also is awesome with fried potatoes or just boiled potatoes. The best is the gravy. Happy Cooking!
Ingredients Kassler Pot Roast
1 kg Kassler, loin of pork, smoked, cured, one piece
1-2 tbsp clarified butter
4 medium size onions
500 ml malt beer (non-alcoholic, Vita Malz, Malta Goya or German Karamalz, only available in German shops, see below)
500ml beef broth – made from instant or from scratch – How to Make Beef Broth –
salt, pepper
side dishes: Sauerkraut, potatoes
Cooking Instructions Kassler Pot Roast
– Wash the meat and pat dry.
– Peel onions and slice them, peel potatoes and cut in quarters.
– Heat clarified butter in a skillet, then fry the meat from all sides until is has browned; then remove from pan and set aside.
– In the same skillet fry the onion rings until they are nicely browned.
– Place meat into skillet and add the beer and broth.
– Let simmer covered for about 2 hours and turn it now and then.
– After 1 hour and 15 min cook potatoes (in cold water, bring to a boil, then add 1-2 tbsp salt and cook them 25-30 minutes or until soft)
– Sauerkraut from the can needs to e cooked as well and this should take 30 minutes or as per given instructions.
– Shortly before Sauerkraut and potatoes are done take the Kassler roast out and keep warm in the oven (at 100F).
---
---
Make the Gravy
– Puree the meat juice either by straining it through a sieve and a wooden spoon or by using a puree stick mixer.
– spice with salt and pepper as needed.
– Let it simmer until thick or add some creme fraiche.
When potatoes are done drain them, either make mashed potatoes or have them just boiled.
Click here for the Mashed Potatoes Recipe
Slice the Kassler roast and serve with gravy, Sauerkraut and potatoes.
Click here for the Sauerkraut Recipe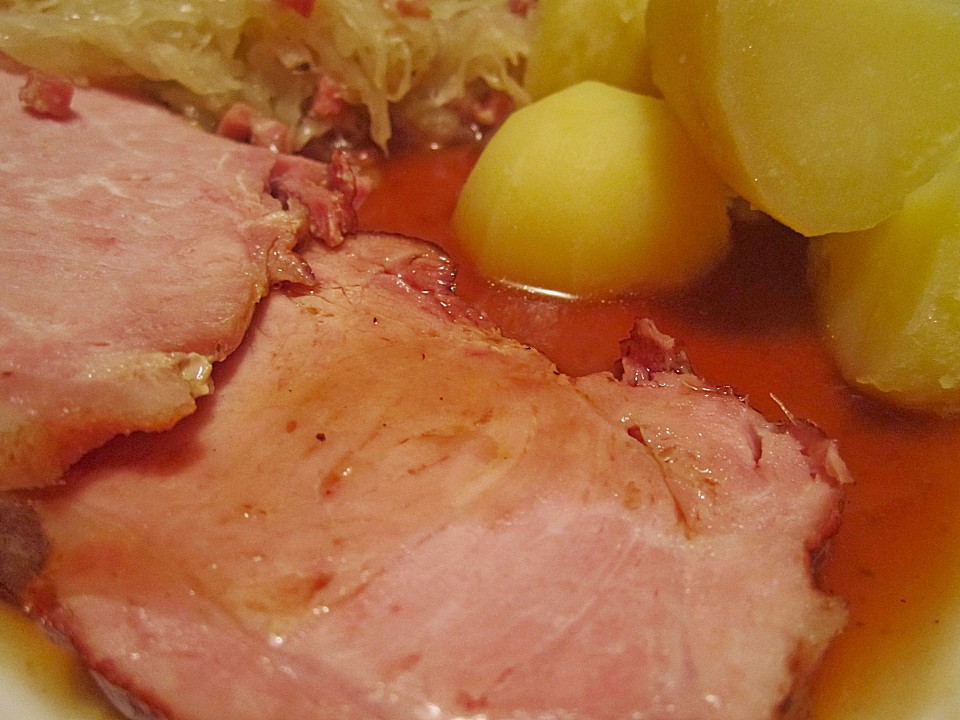 ---