The Turkey with Bavarian dumpling filling is an original German recipe that you will love for the American Thanksgiving dinner. The German recipe is using dried "Steinpilze" (porcini) for this dish. Good side dishes are red cabbage and mashed potatoes. Spätzle and other vegetables are good side dish alternatives as well.
Because it is a German recipes the weight for the turkey is probably not typical for US weights. European turkeys are smaller. Happy Cooking!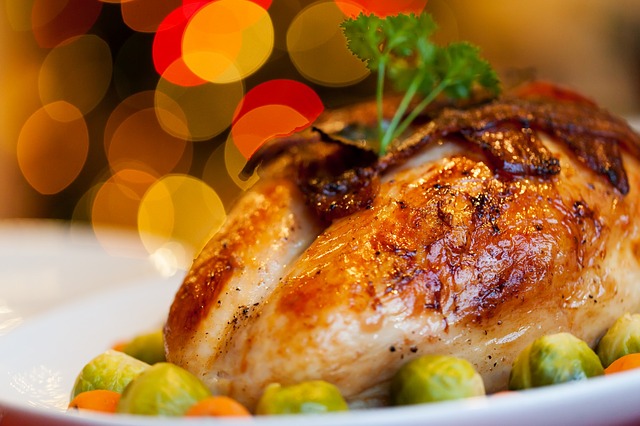 Ingredients Turkey with Bavarian Dumpling Filling
(serves 6)
10 g dried porcini mushrooms
150 ml water
4-5 rolls (200 g), 2 days old (not fresh!), preferably German style, should not be completely hard, you need to cut them
200 ml milk
1 onion
1 bunch parsley
20 g butter
1 egg
1 turkey app. 7lb
salt, pepper
1/2 tsp marjoram
400 ml chicken stock
1/4 l malt beer (optional)
Cooking Instructions Turkey with Bavarian Dumpling Filling
– Soak mushrooms in hot water.
– Bring milk to a brisk boil.
– Cut rolls in cubes; drip hot milk over the cubes and let soak for about 20 min.
– Chop parsley fine.
– Chop drained mushroom and keep the water.
– Saute onions, parsley and mushroom in hot butter for about 2 min and add to the rolls; add egg, spice with salt and pepper.
– Wash turkey and pat dry with kitchen paper; spice the outside with salt and pepper.
– Remove the inner parts (if necessary).
– Place filling into cavity, close it with pins; with a string bind the legs.
– In a turkey pan broil the turkey for 1,5 hrs on 400 F (200C).
– You can place a sheet of foil on top after the turkey is on the oven for 15 min.
– Mix marjoram, chicken stock and mushroom water and baste the turkey with it.
– After 1.5 hrs remove foil and broil for another hour. If turkey weighs more the cooking time will be longer.
– After 30 min pour the malt beer over the turkey.
– When turkey is done (you might want to use a thermometer to check temperature), place turkey on a warm plate, and keep warm.
– Pour the turkey stock into a separate pan.
– Spice with salt and pepper to taste, add heavy cream or mix some cornstarch that is mixed in cold water to the stock so it thickens.
---
DELICIOUS GERMAN BAKING MIXES FOR THE HOLIDAYS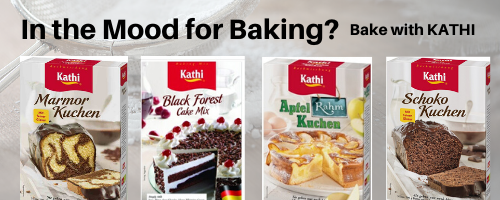 ---