Turkey with Calvados Apple Filling does not sound German at the first look but it is for sure a original German recipe. Turkey is also popular in Germany and in many families it is roasted for Christmas. Calvados is a  French apple brandy that you can get at Bevmo. This is a proven recipe and  it is worth it to try it out. Thanksgiving is soon and here in the USA, what's Thanksgiving without a roasted turkey? Happy Cooking!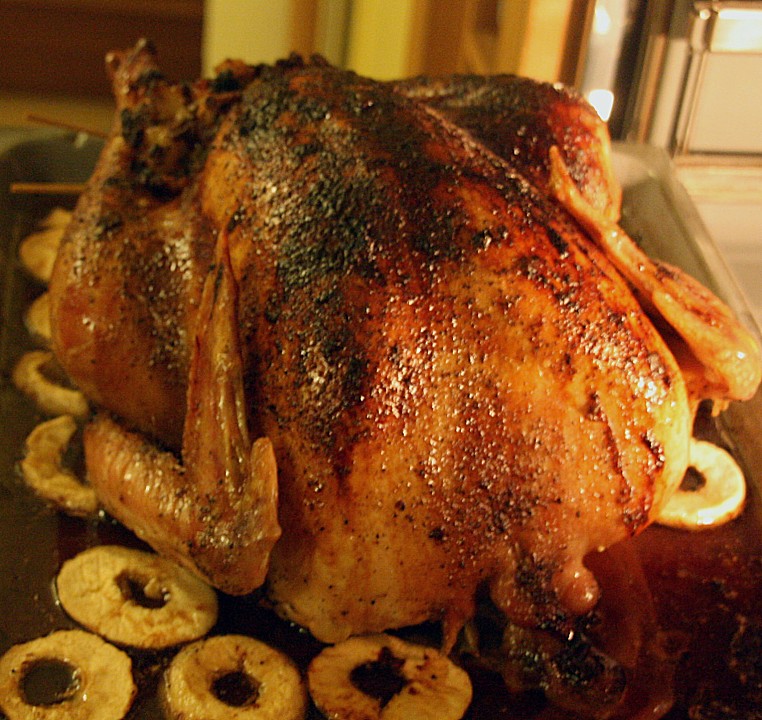 Ingredients
140 g dried apple rings (about 5oz)
5 tbsp boiled potatoes (the day before), peeled and cut in small cubes
150 g bacon (Speck), in cubes (about 5,3 oz)
2 onions, chopped
1 bunch parsley, chopped
3 tbsp creme fraiche
salt and fresh grated pepper, little hint of nutmeg, sweet paprika
1 turkey ready for the oven, 4kg or 8-9lb
Cooking Instructions
The filling is good for  one 8-9lb turkey or make 3.3lb filling for a turkey of 18lb (cooking time will be 5 hrs on 140 C or   F)
If you like you can make a marinade and have the turkey in for 3 hours before you fill it.
1 tbsp mustard, 1 tbsp lemon juice, 4 tbsp peanut oil, 2 tbsp Calvados, pepper. Mix all ingredients and spread it all over the turkey, keep in fridge for 3 hours.
– Soak apple rings in Calvados for 3 hours.
– chop half of the apple rings coarse, set remaining rings aside.
– place chopped apples in  a bowl and add potato cubes and all remaining ingredients and creme fraiche.
– spice to taste.
– place the filling into the turkey cavity and close it with tooth picks or use needle and yarn.
– sprinkle salt, pepper and sweet paprika (optional) all over the turkey; wings and thighs should be close to the main body.
– place on a deep roasting pan and pour melted butter over the turkey.
– pre-heat oven to 350 F.
– roast turkey for 1 hour  then reduce heat to 300F, pour 6.7 oz Calvados (2 dl) over the turkey and roast it another 2 hours. Baste it frequently with the juice, broth or more Calvados (every 30 min).
– 1 hour before the turkey is done place remaining apple rings around it.
– when turkey is done take it out of the oven and let it sit for 20 min.
– make the gravy by using the turkey juice and add creme fraiche or heavy cream, spice to taste.
Tips
Poke turkey with a needle. If you see a clear liquid getting out, it is done.
To get a juice turkey the roasting time is 4-5 hours. Check cooking instructions on the package.