Authentic German Cheese Cake recipe: Are you looking for an original and authentic German recipe for cheese cake? You found the right recipe among all recipes that you can find online. This recipe is authentic German.  The German Cheese Cake or "Käsekuchen" is one of the most popular cakes of Germany and almost everyone loves it. You can buy it in German cafes, and it is the cake for a Sunday afternoon coffee and cake table, and of course for the holidays.
Käsekuchen or German cheesecake is made with quark in Germany. Find out how you can substitute quark or make it from scratch. There are two recipes: One is in grams which is the one we use in Germany, the other one is using a substitute for quark. Happy Baking!
Ingredients Authentic German Cheese Cake
330 g flour, all purpose
130 g sugar
130 g butter
2 medium size eggs
2 packages Vanilla sugar (Dr. Oetker) 0.3 oz each – How to make Vanilla Sugar –
1 package baking powder (Dr. Oetker) or 0.5oz

Filling
1 pound low fat quark – you also can use instead 2 cream cheese Neufchatel each 8oz and 1 cup light sour cream
– Find out How To Make Quark
3 egg yolks separated – beat egg white firm and keep cool
125 g sugar
1 package vanilla sugar Dr. Oetker, 0.3 oz
¼ liter heavy cream
1 package vanilla pudding Dr. Oetker
2 tbsp sugar
lemon zest (organic) or baking rum (optional)
---
"Brilliant. My mom grew up in Germany and I know this made her
birthday extra special. Thanks again!" — J.H.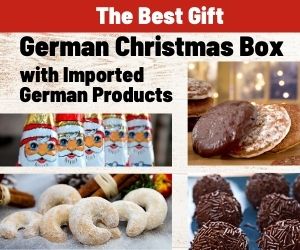 ---
Baking Instructions Authentic German Cheese Cake
– Mix all ingredients for the dough until you get a smooth dough.
– Place the dough into a baking spring form and spread it all over the form and also up to the upper edges (the cake has the dough also around the edges).
– Bake the cake for 10 minutes on 375 F, let it cool off, then add the filling.
Filling
– Mix cream cheese with sour cream, add sugar and vanilla sugar and beat until it is creamy; add egg yolks and mix well.
– In a bowl mix pudding powder with sugar and a little bit of the cream, then add remaining cream and add it to the cheese and mix well.
– Add firm egg white and mix carefully.
– Fill dough into the spring form and bake it on 375 F for about 1 hour. Test with a toothpick. Place some parchment paper on top for the last 10 minutes of the baking time in case the cake got too brown. This cake should never get very brown, just a little bit.
– Remove cake from oven.
– Release from the form when cake has completely cooled off.
NOTE:
It has been proven that this cake won't decrease in size as it happens often to cakes after the baking process. This is a proven recipe.
---
Another German Cheese Cake Recipe in Cups
In cups and not using quark – from a Facebook Follower
Ingredients
1 lb. Ricotta Cheese
2 packages (8 oz) cream cheese
1 1/2 cups sugar
4 Eggs
3 tbsp cornstarch
3 tbsp flour
2 tbsp lemon juice
1/2 tsp vanilla extract
1/4 cup melted butter
1 pt. sour cream
Baking Instructions
– In a large bowl, beat ricotta & cream cheese on high speed. Add sugar and eggs; reduce to low speed.
– Add cornstarch, flour, lemon juice and vanilla.
– Next add melted butter and sour cream, mix on low speed.
– Butter a 10 inch spring form pan and dust with flour.
– Place cake in COLD oven. DO NOT preheat.
– Bake at 325 F for 1 hour and 10 minutes.
– Turn oven off.
– DO NOT open for 2 hours.
Add topping of your choice.
---