Beef with chickpeas pan fried is an easy and quick German dish that can be done in 30 minutes. In Germany we like to do "Pfannengerichte" which means "dishes that are made in a skillet or pan." This dish can be varied. Instead of garbanzo beans use red kidney or white beans, add some cauliflower or red pepper. Spice it with some Cayenne pepper! Garbanzo beans or chick peas are more healthy then you might think – Healthy Benefits of Garbanzo Beans – and they are very common in Indian dishes. Happy Cooking!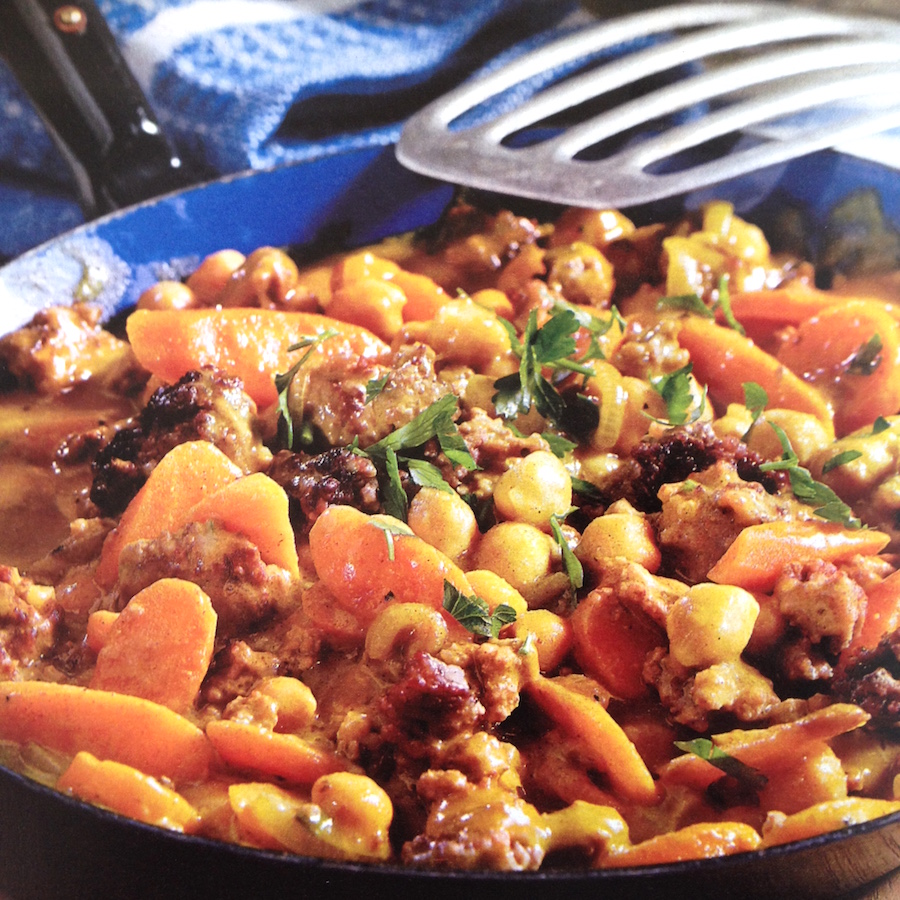 Ingredients
400 g ground beef (or half pork, half beef)
3-4 med size carrots
1 can – 14oz – garbanzo beans (chickpeas)
1 med size onion
2 garlic cloves (optional)
1-2 tbsp oil eg. olive oil
salt, white pepper
1 tbsp flour
1-2 tbsp curry powder (optional)
1 tsp vegetable broth instant
4 tbsp natural Greek yogurt, sour cream or heavy cream
some parsley
Cooking Instructions
– peel and slice carrots; peel onion and cut in small quarters; peel garlic cloves and chop fine.
– Heat oil in a big skillet, add onions and garlic, saute for 1-2 minutes.
– add meat, fry for about 8 minutes until it is crumbly.
– spice to taste with salt and pepper.
– Remove meat, place it in a bowl.
– without adding more oil fry carrots for about 4 min.
– Dust with curry and flour, add 300 ml water, then add the instant broth.
– drain chickpeas, rinse with cold water, let drain.
– Add meat and chickpeas to carrots, then add the yogurt.
– chop parsley fine and sprinkle on top before serving.