This easy Donauwellen cake is just an irresistible cake! The Donauwellen Cake is a classic German cake that you can find in many German bakeries. The Donau is in English the "Danube", a German river that starts near the Black Forest and runs into the Black Sea. The derivation of that cake is based on speculations only. I was not able to find anything that would explain this name.
It is assumed because the sour cherries, the light and brown dough create a wavy pattern that reminds of the Danube's waves. In some parts of Germany this cake is called "Schneewittchenkuchen" (snow white cake). You can find the sour cherries at Aldi or Trader Joe's, they carry them throughout the year. Trader Joe's has a good sunflower oil as well.
If you desire this cake you must bake it.  Is is not available in the USA. The frozen Donauwellen cake I saw at Aldi might be a substitute, some say it's good, in my opinion it's a bit too much on the sweet side. Well, there is nothing better than a homemade cake!  Happy Baking!
Ingredients Easy Donauwellen Cake
Dough
3 eggs
160 g sugar – 3/4 cup
175 ml sunflower oil
175 ml milk
350 g flour
2 tsp baking powder Dr Oetker
1 tbsp cocoa unsweetened
1-2 tbsp milk
1 jar sour cherries, drained
Cream Filling
1 package vanilla pudding Dr Oetker  – How to Make Vanilla Pudding –
400 ml milk
2 tbsp sugar
250 g butter
Topping
200 g unsweetened baking chocolate
2 tbsp Nutella or chocolate spread
1 tbsp sun flower oil or taste neutral coconut oil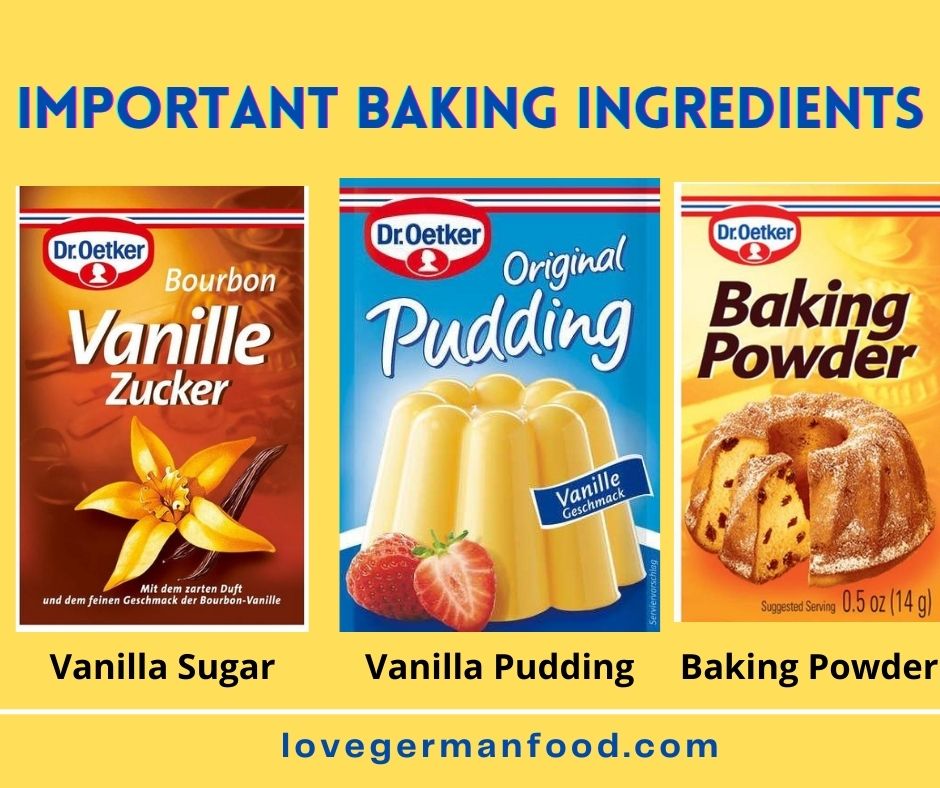 Baking Instructions Easy Donauwellen Cake
Make the Butter Cream: 
– Take butter out of the fridge, cut it in small pieces and place them in a bowl (butter has to be soft).
1. Make the Pudding
– Mix the pudding powder with 2-3 tbsp milk and sugar,
– Bring milk to  a boil, add pudding powder mix, bring to another boil. Done.
– Pour it in a bowl, place a piece of plastic foil on top to prevent skin build up. There should not be any bubbles between pudding and foil.
– Let pudding cool off to room temperature.
Prepare Tray or Form
– Grease a deep baking form or tray and layer it with parchment paper, size 13-15 inches. A disposable lasagne pan will work as well.
– Preheat oven to 180 C or 350 F.
2. Make the Dough
– Beat eggs with sugar until creamy, add slowly the oil.
– Mix flour with baking powder, sieve it, add to dough alternating with the milk, mix well.
– Spread half of the dough into baking form or tray.
– Mix remaining dough with milk and cocoa.
– Carefully add it on top of the first (light) dough layer, watch out it should not get mixed up.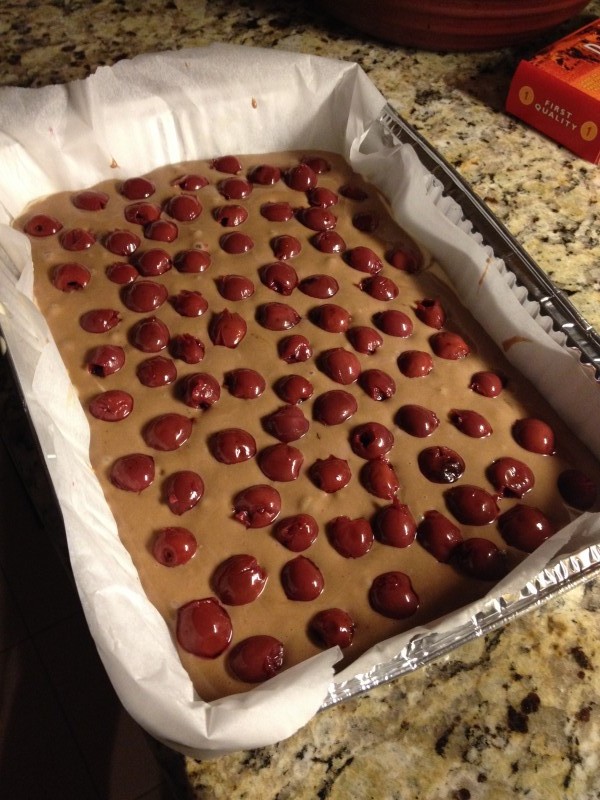 – Place cherries on top and bake for 25-30 min.
– Remove cake from baking tray, with the baking paper place it on a grid.
– Let cool off.
3. Make the Cream
– Beat the soft butter until creamy, remove foil from pudding which has to have room temperature.
– Spoon by spoon mix pudding with butter.
– Spread the cream on top of the cold cake (the cake should not be warm anymore). Should the cake be warm when the cream is ready, place the cream in the fridge until you can use it.
– Keep the cake in the fridge.
– Use the double boiler method to melt the chocolate completely, add Nutella and oil. The melted chocolate should be thin. It should not blend with the cream. With a wide knife smooth it if necessary.
– Place the cake in the fridge for at least 4 hours or over night, so the chocolate and cream can get firm.
---