The German Apple Streusel cake or Apple Crumble Cakes is a classic cake that you will love. In German we call crumbles  "Streusel" which make a great topping for any fruit cake. Even if you are a baking beginner this cake is doable. It's a proven and authentic German recipe. You can substitute the vanilla sugar with some vanilla extract or make it from scratch. Happy Baking!
Ingredients German Apple Streusel Cake
4-5 medium sized apples
For the Dough
250 g flour
125 g butter
100 g sugar
1 egg
1 package vanilla sugar, 0.5oz – How to Make Vanilla Sugar –
some butter for greasing the form, some breadcrumbs/flour
For the Streusel
200 g flour
100 g butter
75 g sugar
1 package vanilla sugar, 0.5oz
1/2 tsp cinnamon or to taste
---
German Baking Mix for a Streusel Cake – So Easy!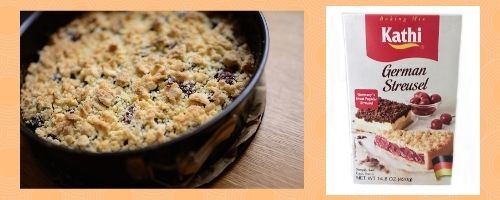 ---
 Baking Instructions
– Peel apples, remove core, cut in small cubes.
– Cook apples in a pan for some minutes.
– Combine all ingredients for the dough.
– Grease a spring form (10 inches), sprinkle with bread crumbs or flour.
– Press the dough gently into the form.
– Place apples on top.
Make Streusel
– Mix all ingredients for the Streusel. Knead the dough so it crumbles nicely.
– Place the Streusel on top of apples.
– Pre-heat oven.
– Bake on 175 C or 350 F for about 60-70min.
Let cool off before removing the cake from the form.
Serve with whipped cream.
---