German Bechamel potatoes are actually a mix of the German and French cuisine. Bechamel is also known as "white sauce", and is made from butter and flour and milk. It is one of the mother sauces of the French cuisine but we like it a lot in Germany. This sauce is the base for many other dishes and can be changed to
Mornay sauce (with cheese)
Nantua sauce (crayfish, butter and cream)
Crème sauce (heavy cream)
Mustard sauce (prepared mustard seed)
Soubise sauce (finely diced onions that have been sweated in butter)
Cheddar cheese sauce (Cheddar cheese, dry mustard, Worcestershire sauce)
This dish tastes the best with potatoes. Happy Cooking!
Ingredients German Bechamel Potatoes
1 kg potatoes
50 g bacon (Speck, smoked)
1 onion
40 g butter
40 g flour
375 ml milk
375 ml beef broth (instant)
salt, pepper to taste, some parsley and/or chives
---
Cooking with German Ingredients!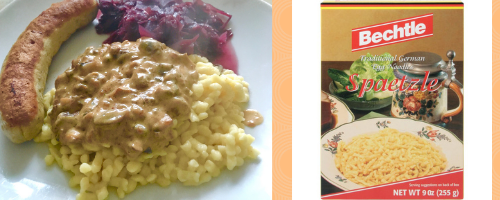 ---
Cooking Instructions German Bechamel Potatoes
– Boil potatoes, drain the water, pour cold water briefly over them, then peel.
– Cut bacon and onions in fine cubes; melt bacon in a skillet, add onions and saute until transparent.
– Add butter, then flour.
– Pour over slowly with milk and broth, whisk frequently.
– Spice with salt and pepper.
– Slice potatoes and add to the sauce.
– Sprinkle with chopped parsley or chives (can be a mix as well).
---