German Cheese Spaetzle are one of my favorites when it comes to local food from the South of Germany which is called Swabia or especially a region that is the "Schwäbische Alb". This recipes is popular throughout Swabia and you can get this dish in every local inn. This dish is simple but very delicious. IN my opinion, it's true food for the soul.
You can make the Spatzle from scratch or get them packaged from our shop at LoveGermanFood.com. The best Spätzle are for sure the ones from the Swabian Alb, the company Bechtle makes very good ones and we are lucky that they import to America.
Happy Cooking!
Ingredients German Cheese Spaetzle
400 flour
5 eggs
1 tsp salt
about 1/4 liter cold, purified water or mineral water
or 300 g dried Spätzle
2 big onions
1 tbsp butter
300 g grated cheese (Emmenthaler or Gruyere cheese or Swiss cheese, basically any cheese that melts easily but not processed cheese)
water with some salt
optional: chopped chives
salt, pepper, nutmeg to taste
---
Original Swabian Spätzle from Bechtle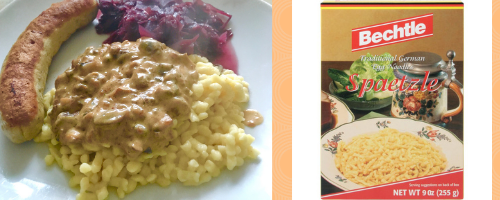 ---
Cooking Instructions German Cheese Spaetzle
– Sieve the flour into a bowl; add eggs, salt and water and mix it with a wooden spoon.
– Stir the dough until you can see bubbles. Maybe you have to add some more cold water.
– Melt butter in a skillet; peel onions and cut them in small rings. Fry them in the butter until light brown.
– In a big pan bring water to a boil.
– By using a wooden board or a German "Spätzle maker", make the Spätzle. Stir often with a wooden spoon.
They are done when swimming on the surface. Take them out with a skimmer and keep in a warm bowl in the oven, covered with foil. Before you place them in the oven sprinkle Spätzle with some of the grated cheese.
– Repeat above step until the whole dough is gone.
– Serve them on warm plates and add fried onions on each portion, sprinkle chopped chives on top.
If you enjoy them as main dish, serve with a mixed salad.
---