Do you need a special cake for your special occasion? We have the recipe for a German Mocha Cake – Mokkatorte in German. It is a layered cake but not with a heavy and rich butter cream. Normally the German layered cakes, the "Torten", consist of a rich butter cream. The recipe is using heavy cream instead of butter and on top, it is easier to make. Happy Baking!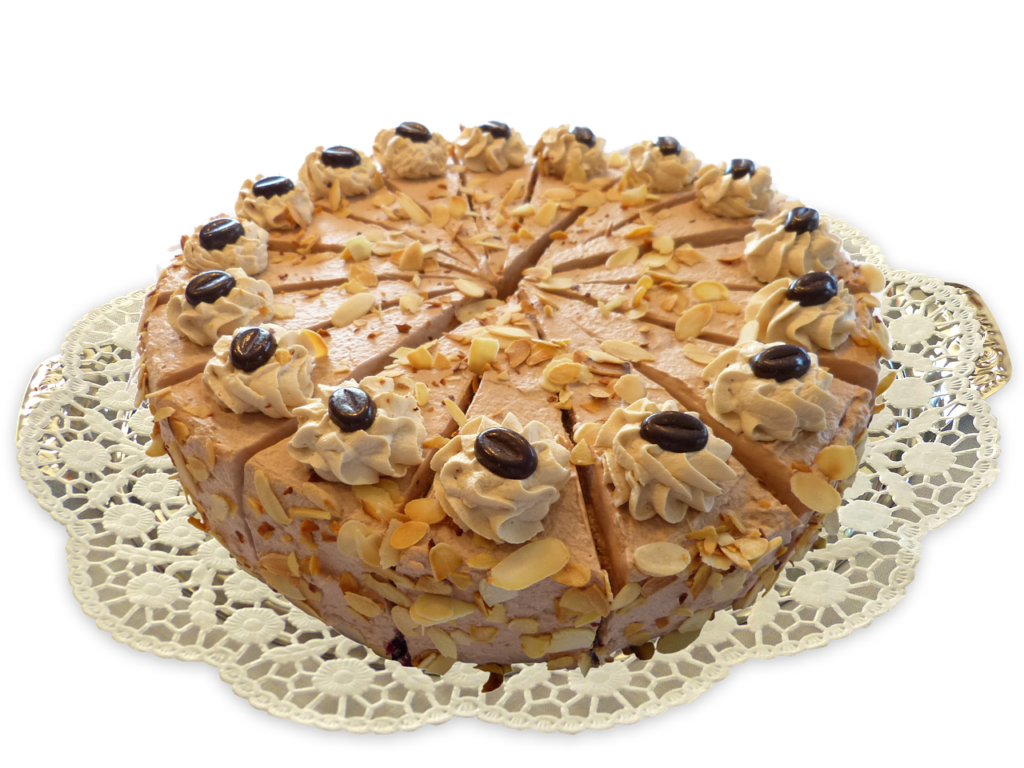 Ingredients German Mocha Cake
BASE CAKE
4 medium-large eggs
2 tbsp hot water
150 g sugar
1 package vanilla sugar (0.5 oz) – How to Make Vanilla Sugar –
100 g flour
100 g starch (organic corn starch, in Germany we use Mondamin which is made out of corn)
1 tsp baking powder Dr Oetker (no baking soda)
FILLING
800 ml heavy cream
110 g chocolate, bittersweet or semi-sweet (zartbitter eg Lindt 50%)
2 tbsp instant coffee
4 packages whip it (Sahnesteif)
4 packages vanilla sugar (0.5 oz each)
cherry jam
chocolate mocha beans for decoration and blanched almond slices
Cooking Instructions German Mocha Cake
The Day before you Make the Cake:
Prepare the filling: Place heavy cream (for the filling) into a pan and bring slowly while mixing to a boil. Break chocolate into small pieces. Add to the cream and let it melt. Add the instant coffee, mix well and keep it in the fridge over night.
Make the base cake the day before as well. Beat eggs, water, vanilla sugar and sugar until bubbly.
Mix flour with baking powder and starch, add spoon by spoon to the egg mix.
Layer a springform (11 inches) with parchment paper.
Place dough into form and bake for 25-30 min on 350 F. When done keep base cake in the form and place it in fridge over night.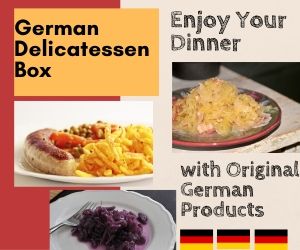 The Next Day:
Release base cake from the form. Use a thin knife around the edges, pull off the paper.
Cut the base cake twice – you should have three layers.
Add Whip it and Vanilla sugar to the filling and beat until the cream is firm.
Spread a thin layer of cherry jam on each layer.
Spread 3/4 of the filling on each layer and all around the cake.
Fill remaining cream in a decorating bag and make little dabbers on top, one for each piece (the photo shows 16). You can also add a bigger dabber in the middle.
Place on each dabber one chocolate mocha bean.
Carefully add the almond slices all around the edges of the cake – if you like on top too.
Before you serve and cut the cake keep cool for 2 hours.
Tip
Instead of almond slices use dark grated chocolate or use dark chocolate sprinkles.
---