Posted on December 2, 2017 by admin
This is a German Christmas Cookies recipe for December 6th, a traditional Germany celebration and is called "Nikolaus Day". Back in my childhood Saint Nikolaus would visit every home in our community to see if the children had been nice kids during the whole year. Sometimes he would  come with his companion, the "Knecht Ruprecht" who would carry the big bag that was filled with gifts. The German Nikolaus is different from the American Santa Claus. The one from my childhood would look like a bishop with his tall hat, the long robe, and the white beard. The German Nikolaus Pocket Cookies are sweet cookies and look la little bit like Ravioli but are filled with a delicious mix of cherries and oranges. Happy Baking!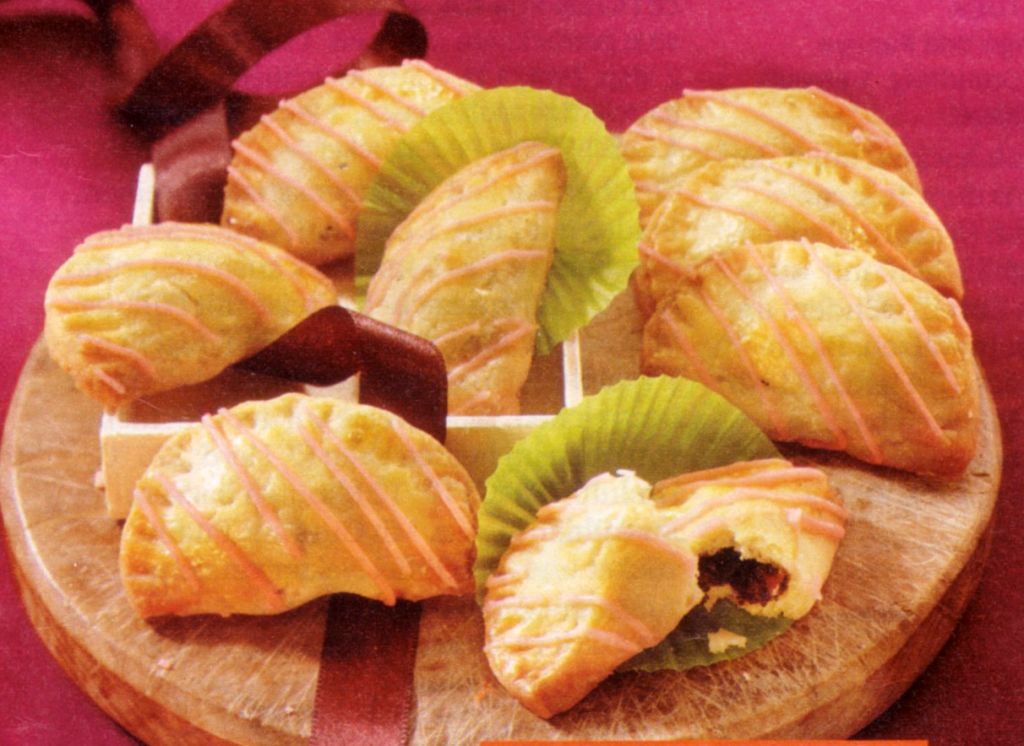 Ingredients German Nikolaus Pocket Cookies
makes about 40-45 cookies
40 g dried cherries
1 organic orange
2 point of knives cinnamon and cardamom (less than 1/4 tsp)
6 tbsp dark cherry juice
100 g poppy seed filling – see below
1 egg yolk
100 g powdered sugar
Dough
150 g cold butter
75 g powdered sugar
225 g flour
1 egg yolk
1 dash salt
Baking Instructions German Nikolaus Pocket Cookies
Make the Dough
– Cut butter in cubes.
– Place butter cubes, powdered sugar, flour, egg yolk and salt in a bowl and mix it with the kneading hooks first, then knead it with hands (have hands dusted with flour) until you get a smooth dough.
– Wrap dough in foil and place it at least for 30 minutes in the fridge.
– Roll the dough 2-3mm thick in between 2 layers of parchment paper.
– Cut (circles) with a round cookie cutter (diameter about 6 cm or 2.5 inches).
Make the Filling
– Chop cherries roughly.
– Wash orange, pat dry, grate very fine.
– Mix cherries, orange, cinnamon, cardamom, 1 tbsp cherry juice and poppy seed filling in a bowl.
Make the Pockets
– Place the filling on each dough circle and fold them like a pocket or like a ravioli.
– Whisk egg yolk with 1 tsp water and spread over cookies.
– Place them on a baking tray layered with parchment paper.
– Bake in pre-heated oven for 10-12 min on 175 C or 347 F.
– Make a frosting out of powdered sugar and 5 tbsp cherry juice.
– Place into a decorating bag with a fine line nozzle and make lines over the cookies.
If you cannot get the German poppy seed filling in a store there is one on Amazon:
Related
Category: German Christmas Baking, German Christmas Cookies, German Cookies, Nikolaus Ravioli Tags: christmas, german christmas cookies, germany, nikolaus, ravioli, recipe, recipes, santa claus