Roasted almonds are a German specialty that you will find on every  German Christmas Market throughout Germany. They are also available here in the USA but are not as common as for example the Kettle corn. We found a recipe to make roasted almonds – or you can use it also for walnuts, pecans or other nuts – in your kitchen. It is very easy. You just need a iron or steel skillet. It is worth to make them just for the smell that we all love so much. Happy Cooking!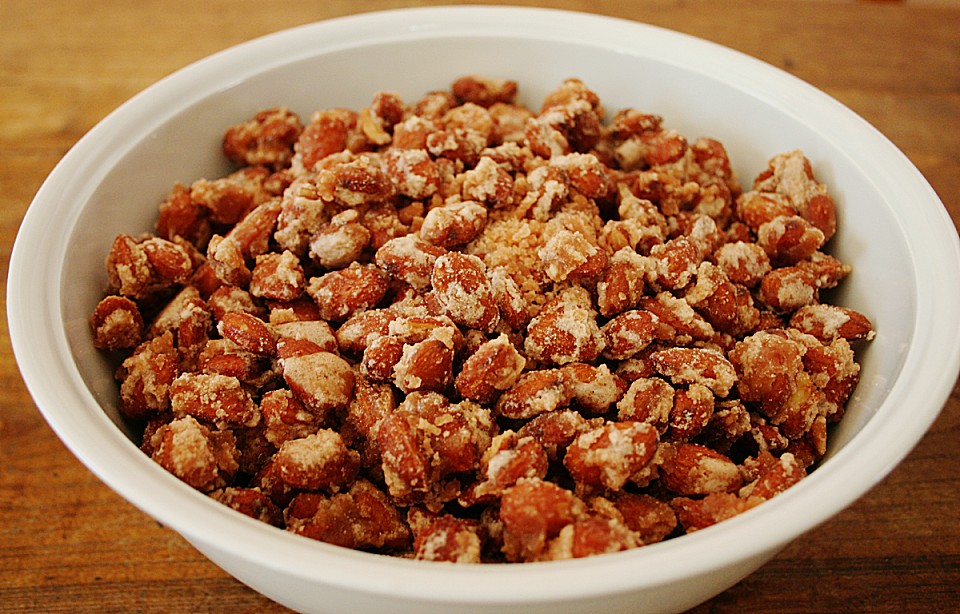 Ingredients Roasted Almonds
200 g raw almonds (with peel)
150-200 g sugar (as needed, 200 g sugar makes it sweeter)
100 ml water
1 package vanilla sugar 0.3 oz – How to make vanilla sugar –
1/2 tsp cinnamon
Cooking Instructions Roasted Almonds
– Add first sugar, then vanilla sugar and then cinnamon into a heavy steel skillet (don't use a Teflon skillet), mix them with a wooden spoon, and then add the water.
– Bring it to a boil without stirring it.
– Add almonds and while stirring continuously boil on high temperature until sugar had dried.
– Reduce heat to medium, while stirring, until sugar starts to melt slightly and the almonds look a bit shiny.
– Place almonds on a baking tray and with 2 forks pull them apart.
– Let cool off.