Leipziger Allerlei is a German Vegetable recipe that makes a delicious side dish. This German recipe is an original recipe from the German city Leipzig that you will love.
Leipziger Allerlei contains of fresh peas, carrots, asparagus, mushrooms or morels. You also can add green beans, cauliflower, or kohlrabi. The classic recipe adds additionally river shrimps and shrimp  butter. But it is not necessary at all to add crabs and crab butter which is hard to get in the USA. The original recipe comes with different veggies and  a sauce that contains crawdads or crayfish, craw-butter and little bread dumplings. It should be served with fresh ingredients from mid may to end of June. And it is being said that it used to be a dish fro the poor (Arme-Leute-Essen).
A Legend tells…
Beginning of the 19th century after the Napoleon wars they wanted to protect the wealthy city of Leipzig  from tax collectors and beggars. The town chronicler Matthus Hempel recommended: "Let's hide the bacon and only serve vegetables. Who will come to us shall get a cup of vegetable broth instead of meat. Hence, the beggars and tax collectors will go to Halle and Dresden."
Another source suggested that vegetable from Leipzig is the second course in a festive menu, and only fresh spring vegetable shall be used for making it.

In Germany you can buy the dish frozen or canned.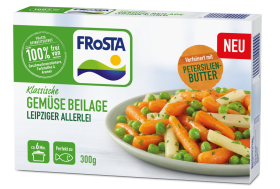 The photo below shows the recipe with shrimps. I like this recipe because it has this variety of vegetables and that's why it is a great side dish for any meat dishes with a gravy or not. Happy Cooking!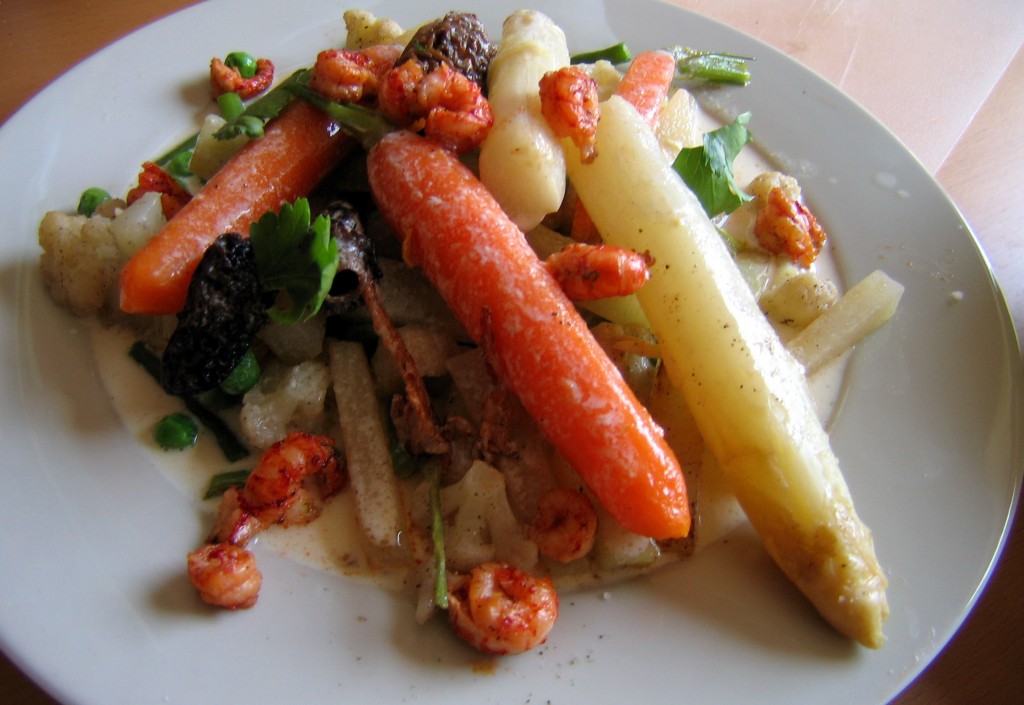 Ingredients Leipziger Allerlei
1 small cauliflower
250 g of each: white asparagus – green beans – green peas (fresh or frozen)
250 g carrots (small ones)
250 g mushrooms or morels (fresh or dried)
50 g butter
30 g flour
½ liter vegetable broth (or instant) – Find it here –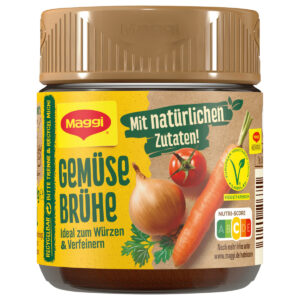 3 tbsp heavy cream,
25 g butter or crab butter
4 tbsp chopped parsley
salt, nutmeg, sugar, white pepper
Cooking Instructions Leipziger Allerlei
– Wash the vegetable.
– Break cauliflower apart.
– Peel asparagus and cut in 2 inches pieces.
– Clean beans and cut them in smaller pieces.
– Peel fresh peas; cut carrots in smaller pieces.
– Wash slice mushrooms. If you use dried mushrooms prepare them per instructions (soak in water).
– Boil every vegetable separate in water (with some salt added) until the vegetable is somewhat soft (al dente, that means it needs to be a bit crunchy).
Get Spätzle, Red Cabbage and Sauerkraut in
this SUBSCRIPTION FREE German Box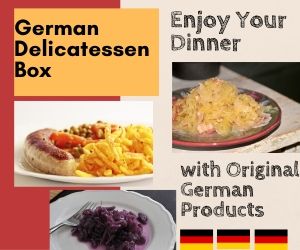 – Drain the boiled vegetable and keep it warm (Cover with foil).
– Melt butter and add flour, stir continuously to avoid clump building, then add vegetable broth and bring to a brief boil. Reduce the heat to low.
– Add heavy cream and butter, spice with salt, nutmeg, white pepper to taste and a dash of sugar.
– Now combine the vegetable with the sauce.
– Serve in a warm bowl or on a warm platter. Sprinkle with chopped parsley and/or chervil.
Serve it with your favorite meat dish.
How to Make Crab Butter – Go to Recipe 
---