Mother's Day is the day of cakes and flowers. The mother's day heart cake is easy to make and you don't need special German ingredients. Surprise your mom with this cake! Celebrate Muttertag with a German Cake. Happy Baking!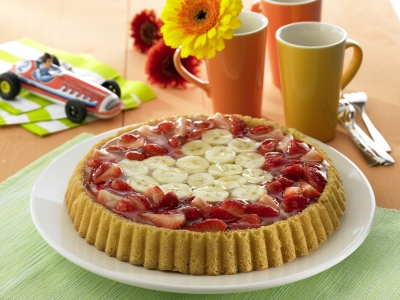 Ingredients Mother's Day Heart Cake
150 g butter
150 g sugar
2 packages vanilla sugar, 0.6oz – How to make Vanilla Sugar –
2 eggs
50 ml milk
150 g flour
75 g starch
1 tsp baking powder (Dr. Oetker)
1 banana, 250 g strawberries
1 package German red glaze
Cooking Instructions Mother's Day Heart Cake
– Mix all ingredients and beat until you get a smooth dough.
– Grease a form (diameter 10 inches or 26 cm) if it is a non-stick form, place dough into form.
– Bake for 20 min on 180 c or 360 F.
– Slice banana, wash strawberries, remove green part, pat dry, cut each on in half.
– Let cake cool off then place banana slices into the middle like a heart. Place strawberries around.
– Make the glaze per instructions and pour over cake.
Decorate with whipped cream on the edges, or just serve it without.
(if you don't have the Dr. Oetker glaze use red grape juice or any red juice, mix with some starch, bring to a boil and when it it thick place on cake.