Cooking with pumpkin today! In Germany we love pumpkin dishes too and it has become more and more popular. Learn how to make this delicious pumpkin orange soup from scratch. Happy Cooking!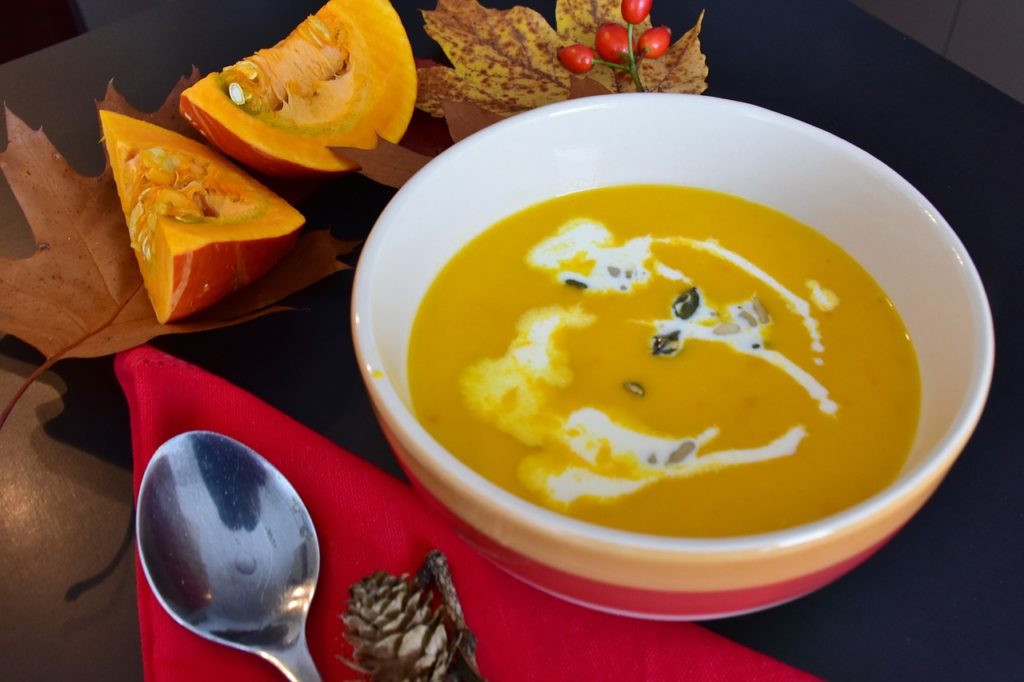 Ingredients Pumpkin Orange Soup
800 g pumpkin (hokkaido)
250 g carrots
1 onion, aomw butter
800 ml vegetable broth or water – How to make Vegetable Broth –
3 oranges
90 ml heavy cream
1 tbsp creme fraiche
salt, pepper, nutmeg to taste
1 dash sugar
herbs such as parsley or chives
Cooking Instructions Pumpkin Orange Soup
– Brush pumpkin thoroughly, cut in quarters, remove seeds and cut in cubes.
– Cut carrots in cubes, chop onion.
– Fillet orange (find out How to fillet an Orange)
– Cut fillets in small pieces, keep the juice.
– Melt butter and saute onions until transparent.
– Add water or vegetable broth by using instant broth (preferably German or organic), bring it to a boil, add pumpkin, orange and carrots and let simmer for 20 minutes.
– Puree the soup by using a stick mixer.
– Mix orange juice with heavy cream and creme fraiche, add to the soup with salt, nutmeg, sugar and pepper.
– Re-heat soup.
– Sprinkle it with chopped parsley or chives.
Tips
The more cream you are using the lighter the color will get.
Don't use too much sugar as it will get too sweet.
If you don't want to use the orange fillets, just use the juice alone.