Delicious vegetable cheese gratin as we make it in Germany – meatless and lean. Ideal as a vegetarian dish. The vegetable cheese gratin counts only 310 calories per serving.  If you like you may vary the recipe and add different vegetables such as carrots, asparagus, broccoli, or mushrooms. You don't have to add the  fried egg on top but this a typical German thing. We like to add fried eggs on dishes… especially for the breakfast or brunch. Happy Cooking!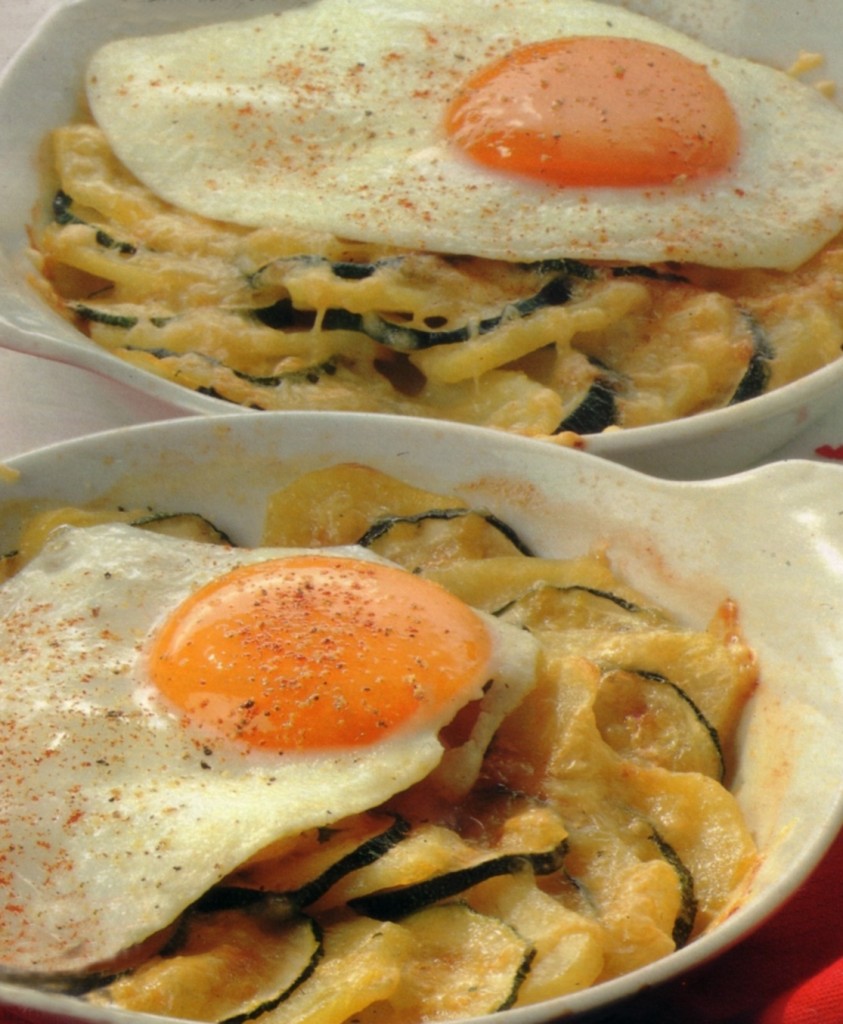 Ingredients Vegetable Cheese Gratin
(2 servings)
2-3 medium sized potatoes
salt,
2-3 zucchini
1 cup vegetable broth (instant) – Rapunzel Pure Organic Vegetable Bouillon with Sea Salt & Herbs, 8 Cubes, 3.1-Ounce Packages (Pack of 6)

40 g grated cheese (Gouda, Swiss cheese or mild cheddar)
2 eggs
1 tbsp clarified butter or butter
black pepper, salt, mild ground paprika to taste (if you like add some Cayenne pepper)
Cooking Instructions Vegetable Cheese Gratin
1. Peel potatoes, cut them in very thin slices; boil them for 5 minutes in water with a pinch of salt. Preheat oven to 400 F.
2. Wash zucchini, cut them in thin slices; add them after 3 minutes to the cooking potatoes.
3. Drain vegetable.
4. Grease a fire proof form and add layers of potatoes and zucchinis; pour the broth over it and sprinkle the cheese on top.
5. Bake for 20 minutes on the middle rack until the cheese has nicely melted and shows a golden brown color.
6. In a pan melt the butter, fry 2 eggs, spice them with salt, paprika and pepper, place them on the gratin.