Posted on December 7, 2018 by admin
In Germany we use walnuts for many baking recipes. The German Christmas Cookies Walnut Cookies are easy to make. This is the season for walnuts now and you can get them in almost every super market. Tip: If you cannot get ground walnuts use a coffee grinder to grind them. Happy Baking!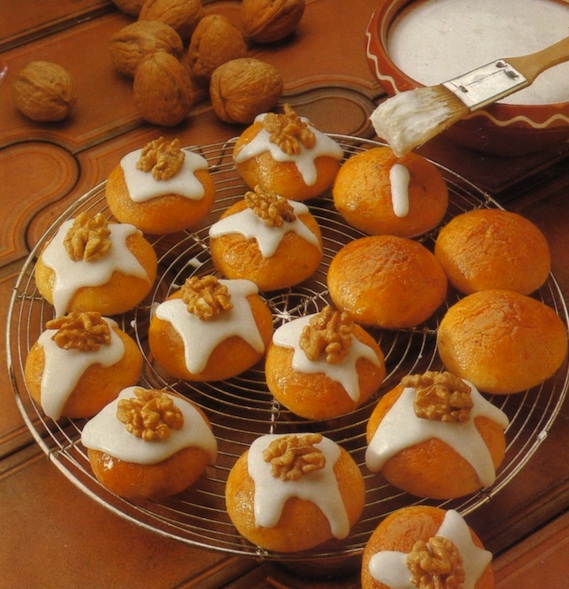 Ingredients German Christmas Cookies Walnut Cookies
Dough
150 g butter, soft
100 powdered sugar
1 dash salt
6 egg yolks
1 egg
1 sachet vanilla sugar- 0.3oz – How to make Vanilla Sugar –
50 ground walnuts – Paskesz Ground Walnuts, 4-Ounce Bags (Pack of 24)

350 g flour
Glaze
2 tbsp apricot jam
100 g powdered sugar
1-2 tbsp warm water
halves of walnuts for decoration
Baking Instructions German Christmas Cookies Walnut Cookies
– Whisk very soft butter with powdered sugar, egg yolks, egg, vanilla sugar and salt until bubbly.
– Add walnuts and mix in flour.
– Form balls of walnut size and place them on a greased baking tray or layered with parchment paper.
– Bake them in preheated oven for 20 minutes at 325 F.
– Press apricot jam through a sieve, and with a brush or a small spoon spread it over the cookies when they are still warm.
– Mix powdered sugar with water and with a brush add it on the cookies after the apricot jam has dried a bit.
– Place half of a walnut on top (it should stick).
Related
Category: Christmas Baking, Christmas Cookies, German Christmas Baking, German Christmas Cookies, German Cookies, Holiday Recipes, Walnut Cookies Tags: christmas, cookies, german christmas cookies, recipe, walnut, walnuts