Posted on October 22, 2021 by admin
The German Hazelnut Macaroons (in German "Haselnussmakronen") are traditional and classic German cookies for the Holiday season and Christmas. Germany is known for its unique and delicious Christmas Bakery. If you have not made any German Christmas cookies before, then this recipe is very good to begin with. In Germany we use very thin baking wafers for these cookies. In the USA you can get them online or in special Germans stores. The good thing is that you can make the macaroons without the wafers as well but using them is so German and makes the little difference..  Happy Baking!
Ingredients German Hazelnut Macaroons
4 egg white
200 g fine sugar (confectionery sugar)
200 g ground hazelnuts or hazelnut flour
hazelnuts cut in half for decoration
1 hint of cinnamon
2 tbsp flour for dusting
30 wafers, 40 or 50mm (very thin round wafers ) – optional
---
Makes a Special GIFT for your Beloved ones!

---
Baking Instructions Hazelnut Macaroons
– Preheat oven to 300 degrees F.
– Beat egg white with pinch of salt very firm by using a hand mixer (so firm that if you cut it with the knife you would see the cut!)
– Add sugar; sieve it over the firm egg white and carefully mix it.
– Then add the hazelnuts and cinnamon and mix it carefully (don't use the mixer, use  a wooden spoon). If you cannot get ground hazelnuts or hazelnut flour, you can use a coffee grinder to grind them.
– Dust a baking tray with flour or layer it with parchment paper.
– Place on each wafer with 2 teaspoons a small amount of hazelnut batter and place in the middle one half of a hazelnut (or a small whole one).
– Bake them for 10-15 minutes depending on the oven. Check frequently, you don't want the wafers become brown.

Tip
If you want you can bake them without the wafers too. Instead using wafers for the bottom you can use melted chocolate and dip the bottoms of the baked macaroons in it briefly.
---
FIND THE BACKING WAFERS – OBLATEN – HERE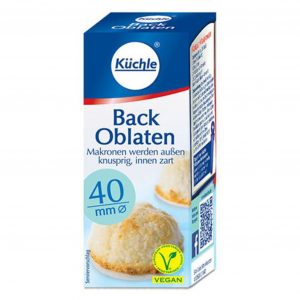 ---
Related
Category: Christmas Baking, Christmas Cookies, German Bakery, German Christmas Baking, German Christmas Cookies, German Recipes, Hazelnut Macaroons Tags: christmas, german christmas cookies, hazelnut cookies, macaroons, makronen, recipe, recipes