Do you know the authentic Maultaschen Swabian Pockets Recipe?  This is a local food specialty from the South of Germany, Swabia, and it's pockets or ravioli with a meat and/or vegetable filling. The classic filling would be a mix of spinach and ground beef. Some recipes are using bratwurst filling, and some are meatless.
There are different ways how to serve them. They taste delicious in a beef broth or fried in the pan with roasted onions or bread crumbs. Home made Maultaschen requires some cooking skills and time. You would need a ravioli cutter and a wide enough wooden board – In Germany you use special baking boards that can be easily adjusted at the table's edge so they won't move around.
The photo below shows the Maultaschen as being served in a country inn of Swabia, just fried in butter and sprinkled with parsley. Happy Cooking!
Ingredients Maultaschen Swabian Pockets Recipe
Dough
350 g flour
1/2 tsp salt
3-4 eggs
1 tbsp vinegar
For the Filling:
150 g fresh or 100g frozen spinach
1 onion
1 1/2  German bun (some days old, not fresh)
200 ml warm milk
200 g ground pork or beef
2 tbsp parsley (chopped)
2 eggs, salt, pepper, nutmeg
1.5 l beef broth or water
fresh ground nutmeg and pepper
NEW: Kathi Yeast Dough Baking Mix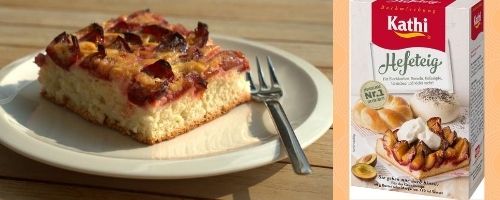 Cooking Instructions Maultaschen Swabian Pockets Recipe
– Beat eggs, 3 tbsp water, vinegar with a whisk and add bit by bit the flour; knead it then until you get a firm, smooth dough.
– Cover dough or wrap it it in foil and let rest for 30 minutes.
– Fresh spinach: Wash thoroughly, remove hard parts like stems and roots. Defrost frozen spinach.
For the Filling
– Soak roll in milk and squeeze all milk out. Bun should not have any liquid in it.
– Peel onions and chop it finely.
– Melt butter in a skillet; add onions, chopped parsley, spinach and bun; saute for some minutes
– Add ground beef, spice with salt, pepper and nutmeg, mix well, then take off  and let cool off a bit.
– Now roll the dough (on a wooden board with some flour) and with a special roller make 15cmx15cm (6inches x 6inches) squares. The dough should not be thicker than 3mm (1/4 inch).
– Brush water or egg white on the edges.
– Place 1-2 tbsp of the filling on each square.
– Fold the squares to a triangle and press the edges firmly together. Now cook them either in water or broth.
– Bring water with some salt  (or the broth) to a boil and place pockets inside, they are done when they float on the surface.
– Remove them from water by using a slotted spoon.
– Melt butter in a skillet and roast them on both sides slightly, in a separate pan roast bread crumbs.
– Sprinkle Maultaschen with parsley and the breadcrumbs.
Servings Options
– With roasted onion rings,
– fried in butter.
– with roasted breadcrumbs,
– brown gravy,
– in a broth,
– with potato salad or fried potatoes. Never forget to sprinkle with parsley.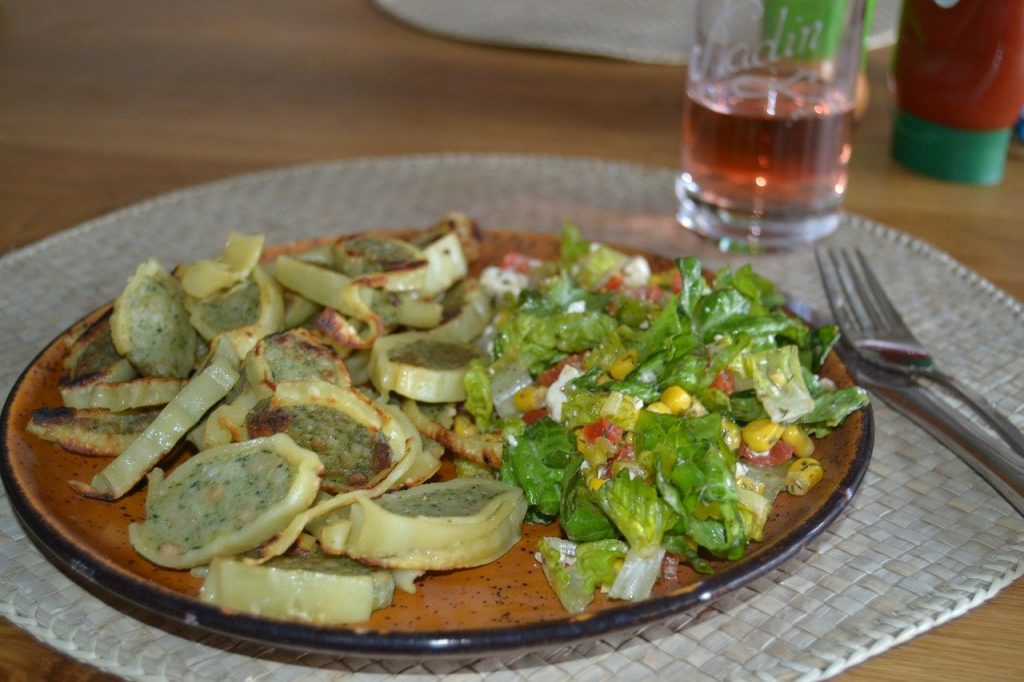 ---