Today we like to show you what snacks you can get in the Rhineland: Koelner Kruestchen Toast – Hubertus Kölner. The Krüstchen is a specialty from Cologne and it is a pork schnitzel placed on a slice of bread with a fried egg on top. These kind of toasts are very popular in the pubs of Cologne, the so called "Kneipen". Enjoyed with a glass beer, a Koelsch.
Kölner Krüstchen is a great snack that can be made fast, you just have to make the schnitzel: Click here for the Wiener Schnitzel recipe
The name Krüstchen means "crunchy bread" in German and is a typical expression of the Rhineland. The best is to make more Schnitzel the day before for dinner, and keep some for next day, so you can make the Kölner Krüstchen. The used Graubrot is a mix of rye and wheat flour (Mischbrot) and you may find it  in International or Mediterranean or Eastern stores. You can use wheat or rye bread instead. We are sure it tastes delicious on wheat toast. Another toast variation is the Toast Hubertus which is also called Jaegertoast. Happy Cooking!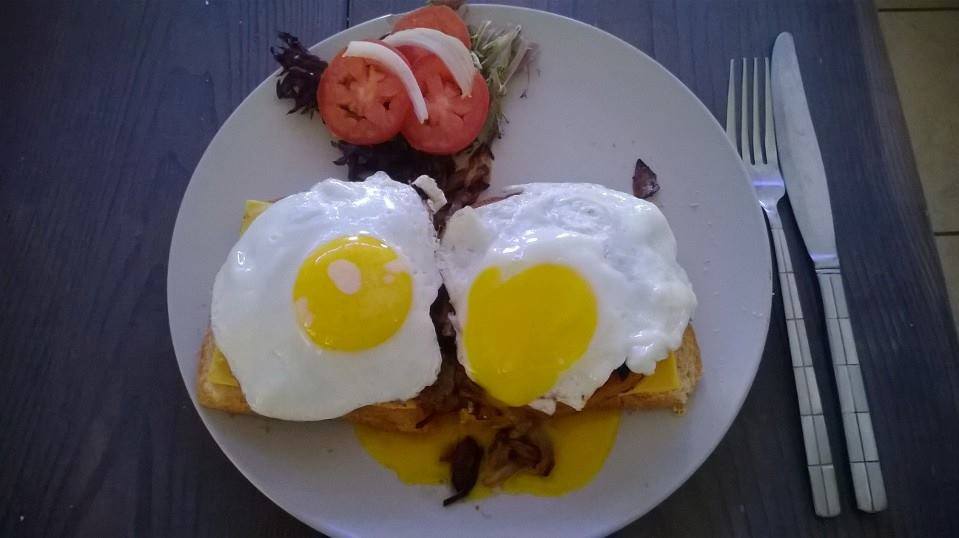 Ingredients Koelner Kruestchen
1 slice bread (rye, wheat or "Graubrot")
butter
1 slice cooked ham
1 ready made Schnitzel
1 onion to make fried onions
per slice 1 fried egg
Cooking Instructions Koelner Kruestchen
– Toast bread, spread it with butter.
– Fry sliced onions until they are brown (in some butter).
– Place on top:
1 slice of ham, 1 schnitzel, fried onions and on top the fried egg.
Ingredients Toast Hubertus
2 slice toast bread
2 pork fillets (Schweinemedaillons)
salt, pepper to taste
1 inch thick slice of herb butter
heavy cream
fresh mushrooms
2 slices of cheese that melts well
Cooking Instructions Toast Hubertus
– Cut the filet if necessary in slices.
– Spice the meat, brown evenly on both sides. Set aside.
– Prepare and slice mushrooms.
– In the same skillet saute sliced mushrooms.
– Toast the bread.
– On each slice of bread place 1 filet,  add mushrooms on top, and a sl;ice of cheese.
– Broil on high heat briefly.
Video on How to make the Toast Hubertus